Baked Malaysian Spicy Whole Fish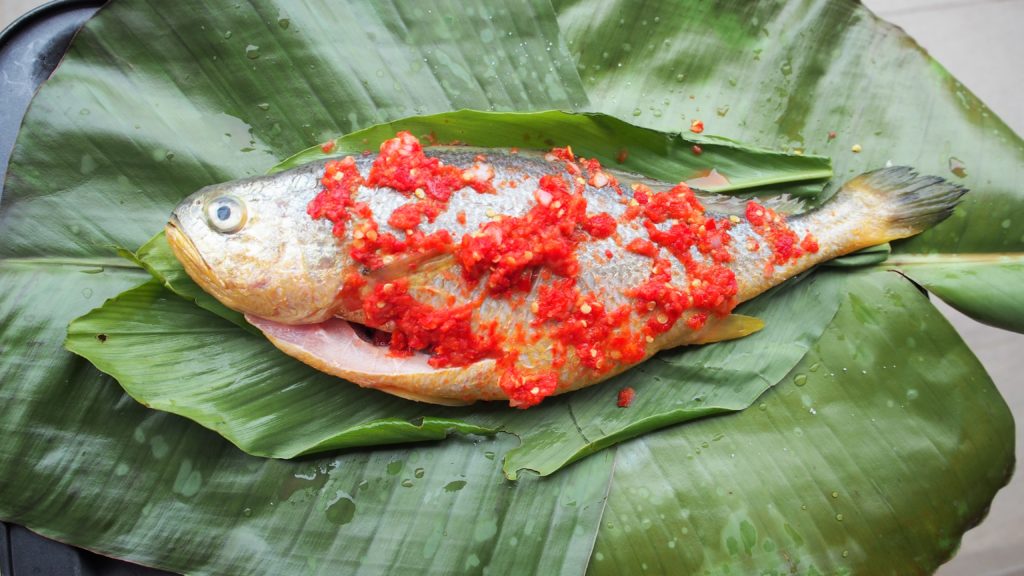 If you love spicy food, you'll love this spicy baked fish! My friend Anita (queen of spices!) made this dish for me along with other deliciously spicy food. The marinade is a perfect blend of hot and sour, and infuses the fish with a kick of flavor. Enjoy with rice and other side dishes.
Baked Malaysian Spicy Whole Fish Recipe
Ingredients:
1 whole white fish (barramundi, red snapper or your preference)
Pinch of salt
2 turmeric leaves (optional)*
1-2 banana leaves (optional)*
Spicy Marinade:
1 large red chili
1 or 2 small Thai chilies
2 shallots, peeled
2 cloves garlic, smashed and peeled
Juice of 2 kaffir limes
1 teaspoon fish sauce
*If you live outside of Asia, you may find turmeric and banana leaves at your local Asian grocery store or farmers market.
Method:
Preheat the oven to 400℉ (200℃). If you're using forced fan, turn it to 375℉ (190℃).
Use a sharp knife to make 3 slits on both sides of the fish, sprinkle with salt and set it aside. Blend the spicy marinade ingredients together in a food processor or manually with a mortar and pestle.
When the blend becomes a paste, carefully spoon it on both sides of the fish and spread it out as much as you can. Be careful of the marinade getting on your skin. It will burn! Set aside.
The banana leaves will be quite stiff and will need to be softened with heat. Turn on the fire on your gas stove or the highest temp of your electric burner. Hold the leaf slightly above the heat and move it around to make sure the entire leaf is warmed up. Be careful not to burn it or yourself in the process! The leaf will start to soften and have an aromatic scent.
If you don't have banana or turmeric leaves, you can use aluminium foil or baking paper instead. Cover a baking sheet with either foil or baking paper, and place the fish on top.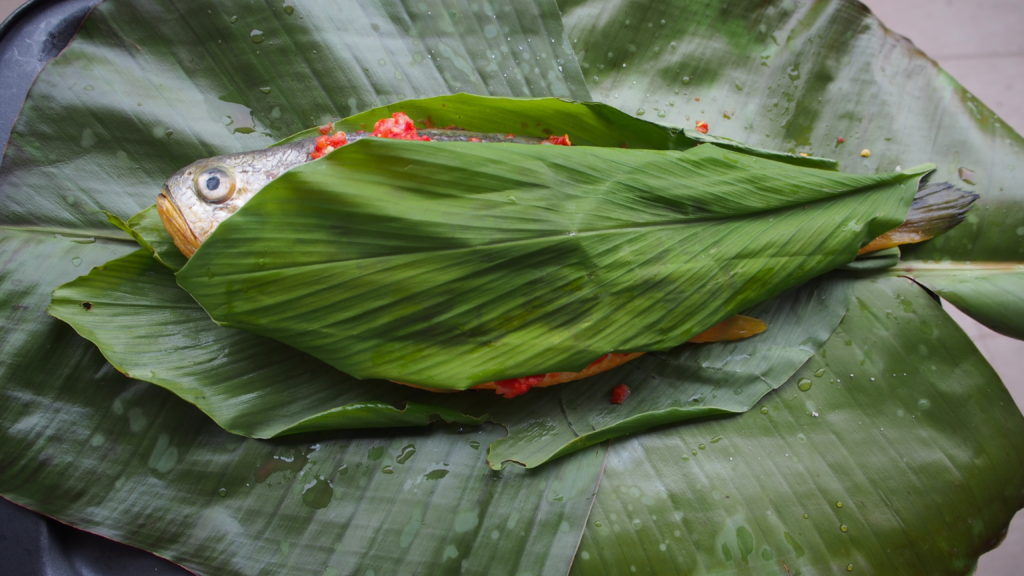 If you're using the leaves, place a turmeric leaf on top of the softened banana leaf. Then place the fish on top of the turmeric leaf and cover with the other turmeric leaf. If you have two banana leaves, you can fold one over the top of the fish and tuck the ends to make a little package. If you only have one large leaf to work with like me, you can try to secure the ends with toothpicks. It won't be very pretty but it's quite effective!
Bake for 20 minutes. The spices and aromas of the leaves will infuse the fish with a complex flavor that incorporates heat with herby deliciousness!
---
---