Oven Roasted Veggie Stack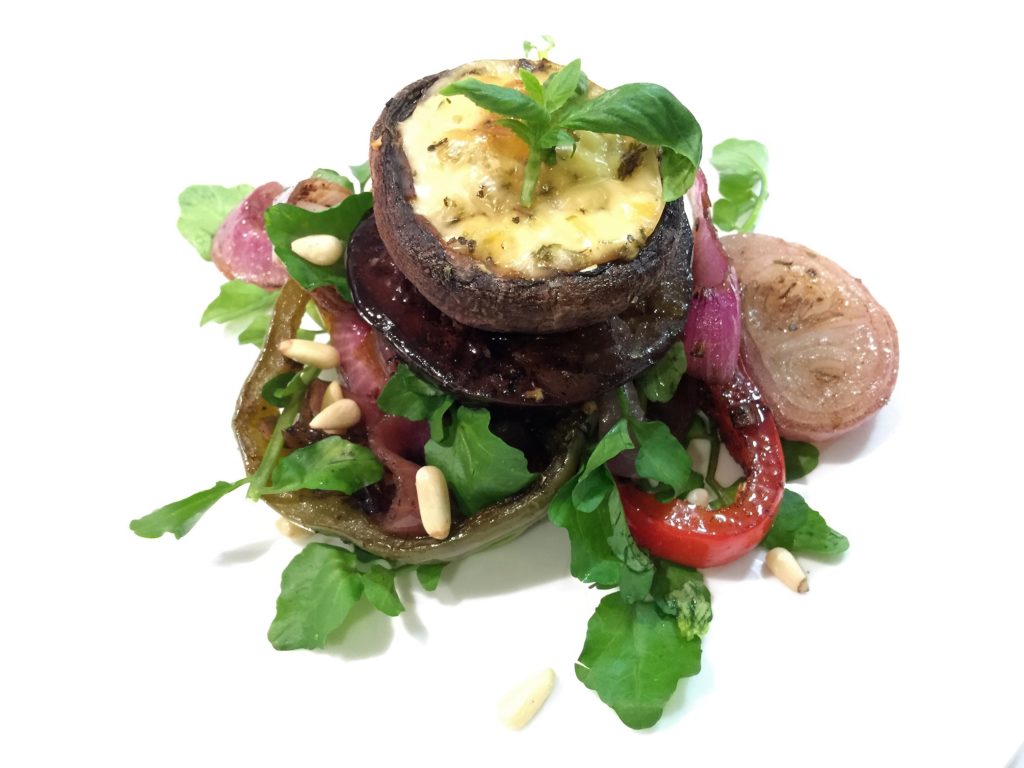 I've been thinking a lot about food plating lately. Taste is of utmost importance of course, and I'm happy to eat a plate of ugly food if it's delicious. But lately I've been thinking of how we can get that fancy restaurant plating at home without resorting to spending copious amounts of money at a restaurant. I absolutely love beautiful plates of food but lack the creativity to put a gorgeous dish together. It doesn't help that when you google ideas and recipes for fancily-plated food, they always look way too intimidating and require expensive kitchen equipment and ingredients in order to pull off the dish.
But there's hope yet! It's possible to elevate a very simple dish if you plate it up artistically. My friend Wuen has an innate artistic ability to take a bunch of oven grilled veggies and make it look like you ordered it from a restaurant. It didn't take very long to marinate, bake and plate up the dish, and it was gorgeous, delicious and so healthy!
You may follow Wuen's example in plating up the dish. She puts the largest items at the bottom to create a base and alternates colors and flavors on top of one another, and finally places the mushroom on top. You can experiment with other forms of plating (YouTube has lots of ideas and tutorials) or just plop the cooked veggies into a bowl and devour them with relish!
Oven Roasted Veggie Stack Recipe
Serves 4 with extras
Roasted Vegetables: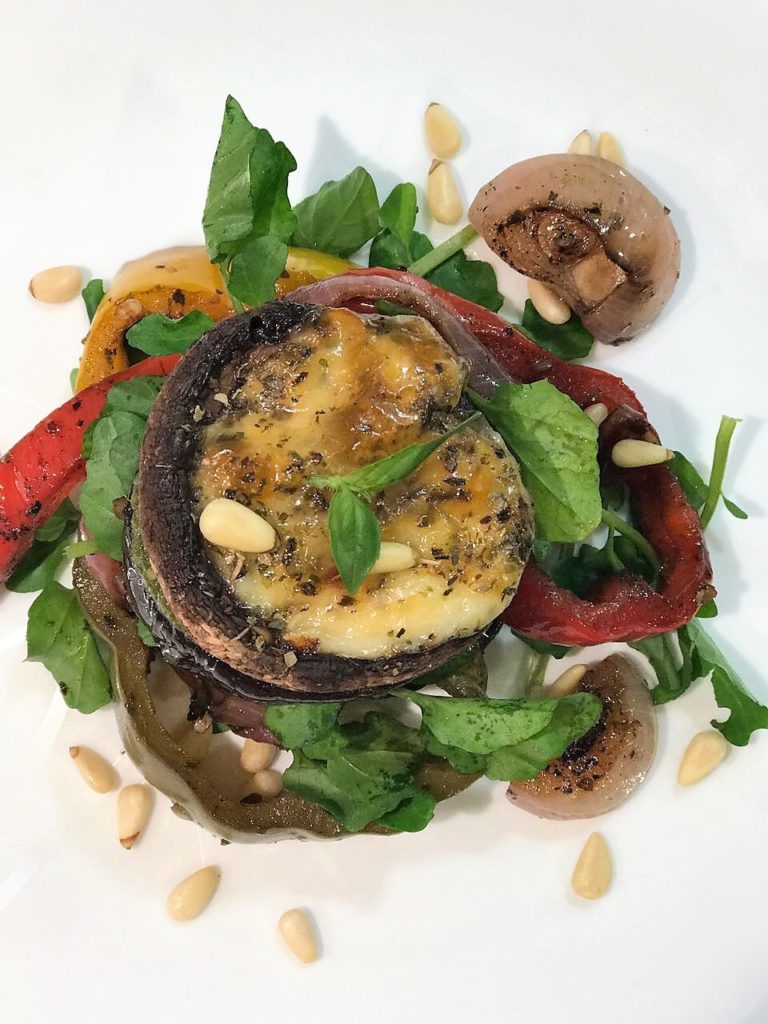 2 medium eggplants, sliced into ½ inch rounds
3 red onions, sliced into ½ inch rounds
1 large red bell pepper, deseeded and sliced into ½ inch rings
1 medium green pepper, deseeded and sliced into ½ inch rings
1 medium yellow pepper, deseeded and sliced into ½ inch rings
Cheesy Portobello mushrooms:
4 Portobello mushrooms, stems removed
Mozzarella cheese, to taste
3 cloves garlic, minced
Salt & pepper to taste
Others:
Bunch of fresh watercress
Pesto sauce (homemade or store bought)
Handful of pine nuts (optional)
Marinade for Roasted Vegetables:
1 bulb garlic 1 bulb, minced
½ cup balsamic vinegar
¾ cup olive oil (add more as needed)
Salt & pepper to taste
Method:
Place the vegetables to be roasted into a large mixing bowl and pour the marinade over it. Set it aside for about 30 minutes to 1 hour for the vegetables to absorb the flavors.
While the vegetables are marinating, work on the mushrooms. Place them gill side up on a lined cookie tray, sprinkle some garlic and a tiny pinch of salt first, then some mozzarella cheese onto each mushroom. Add black pepper on top of each mushroom and a drizzle of olive oil over them.
Preheat the oven to 400℉ (200℃).
Line a large roasting pan with parchment paper. Throw in the vegetables and even them out on the pan. Place it in the oven to roast for 30-40 minutes, until the vegetables are cooked.
About 20 minutes into the roasting, place the mushrooms into the oven. It should take about 10 to 15 minutes for the mushrooms to cook and the cheese to become golden brown. If you prefer your vegetables to have a more roasted flavor, keep it in the oven a little longer but watch that they don't become too charred.
Dress the watercress in a bit of extra virgin olive oil. They will add a nice fresh element to the plate of roasted veggies. Pine nuts are optional but they add a nice nutty flavor to the dish.
Here's a little video my friend Wendy took of Wuen plating:
Stack each layer with some roasted vegetables, fresh watercress and a spoonful of pesto sauce. Add a baked mushroom to the top of each stack of vegetables. Sprinkle pine nuts all over the perimeter for an added yum to the dish!
---
---