Cake Baking Tips from a Novice Cake Baker
Yes you read that right and might be thinking, "why should I take any advice from a novice?!" I don't blame you but hear me out! Most baking advice are written by experts and sometimes they skim through steps that are so glaringly obvious to them but not to a beginner. I've googled and asked my baker friends questions that only come up when a beginner is trying to bake a cake, so hopefully these tips will help you too!
I'm not a total beginner at baking. I've baked plenty of cupcakes, cookies and pies, but not cakes. Prior to this year, the last cake I baked was for a high school home economics exam. It didn't rise and I probably flunked that test! For years, I was too afraid to take on another cake baking challenge until good friends of mine asked me to bake their wedding cake. I thought that they were joking and had to confirm it a couple of times. I even told them to have a plan B in case I mess up!
Breathe…don't panic.
For two months, I read up on cake baking and watched countless of YouTube videos on cake decorating. They make it look so easy (especially YouTubers with fancy kitchens)! I tested two cakes prior to baking the wedding cake and the first one was an epic failure. I did just about everything wrongly — I didn't cool down my cake before trying to slice the dome off and I didn't do a proper crumb coat which resulted in a really bumpy looking icing job. I learned from my mistakes and the second cake was much better but still wasn't as smooth as I wanted it to be.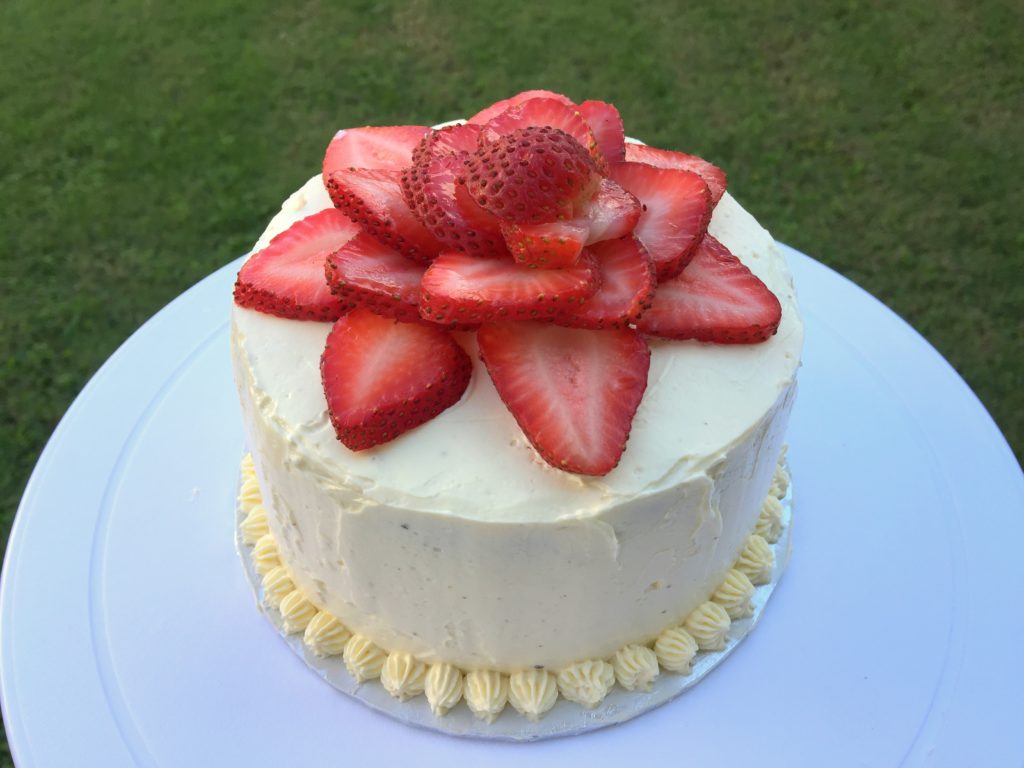 I had anxiety dreams all week prior to the wedding and hoped that my cake wouldn't melt, collapse and/or dry up. Thankfully none of that happened! Although my wedding cake wasn't as fancy as something from a professional bakery, it came from the heart and tasted pretty yummy if I do say so myself.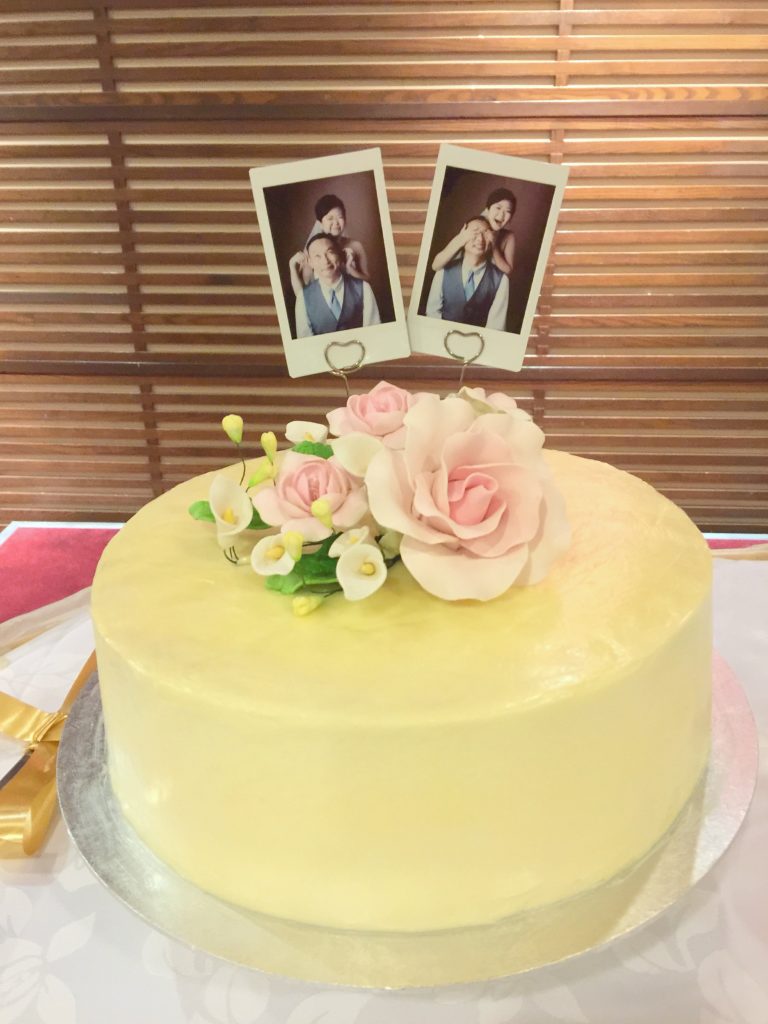 Tips for Baking a Simple Two-Layer Buttercream Frosted Cake:
When Baking Your Layers
Invest in a scale! Most American recipes use cups and British recipes use weights. The problem is that with baking, you have to be incredibly precise and sometimes cup sizes can differ. If the recipe has both weight measurements and cup measurements, weigh your flour instead of using a cup and your cake won't end up too dry or dense.
Small holes are inevitable in butter cakes (don't panic like I did!) but to have less holes, place the dry ingredients in a bowl, stir them together before sifting them into a larger mixing bowl. When you combine your dry and wet ingredients, make sure you don't over-mix them. Mix until smooth and then it's ready to go. After pouring the batter into the cake tins (equal amounts), bang the tins on the table a few times and you'll see bubbles rising to the top. This will help smooth out any potential holes in the batter when baking.
When Decorating Your Cake with Buttercream
Invest in a turntable, an offset spatula, cardboard cake circles, icing bag with tips, and a bench scraper! They're essential for smoothing out a buttercream frosting on a cake.
Invest in a baking wire cake cutter! Some people are amazing at cutting a straight line but I'm not one of them. There are several costly contraptions to cut off the dome of your cake but you can find a wire cake cutter online for pretty cheap. It's not sharp like a knife so you may struggle getting it through the browned sides of your cake. I find that it helps to see where the line is, use a bread knife to start the process and then use the wire cutter in a sawing motion to slowly cut through the cake. Don't hold the top of the cake while you're cutting with the wire! Your cake will end up really crooked (it happened to me!). Hold the cake at its side and slowly saw your way through to a perfect finish.
For those baking during summer, Swiss meringue buttercream holds up extremely well in hot weather. It has the fluffiest consistency when it's freshly made so whip it up the day you're going to frost the cake. If you're pressed for time, you can make it the day before but bring it to room temperature before whipping it up. It won't be as fluffy as when it's freshly made though. Make more buttercream than you need because you might run out if you want to pipe designs. Swiss meringue buttercream can last for 3 weeks in the fridge so definitely make more than what the recipe calls for! The recipe I used is from Martha Stewart. It's fluffy and light, not too sweet and complements any flavor cake you are going to make.
If you need to make your cake layers the day before, layer and then crumb coat them and refrigerate for 30 minutes to 1 hour for the crumb coat to harden. Wrap it in cling wrap and keep it in the fridge. The crumb coat will protect the cake from the drying effects of the fridge and keep it moist.
Start by piping a "wall" close to the corner of your bottom layer using a large round tip. Even if you're not going to add other filling to the cake, the wall will help you seal the edges of the two layers much easier than if you just slap on a layer of buttercream. It will also help you gauge how much buttercream to add to the top of the bottom layer. When I made my first cake, I didn't pipe a border and just slapped on buttercream. It made the cake kind of lopsided and it took a while to fill in the gaps between the two layers.
When you start to frost your cake, add lots and lots of buttercream on top and especially around the cake. You'll end up taking quite a lot off with the bench scrapper anyway. I found this video to be the most helpful in teaching me how to smooth out the buttercream. I didn't buy the special tool (which looks basically like a huge bench scraper) but she has awesome tips!
To smooth out the buttercream, use a bench scraper and hold it lightly against the buttercream (as seen in the video). Keep your arm against your rib cage and then turn the turn table without moving the bench scraper. Make sure you wipe the scraper clean before using it again. When the cake is bump and line free, soak your scraper in hot water, then wipe dry. Then use that to really smooth it out to a silky finish.
Fresh flower decorations are all the rage these days and I was going to use them on my cake too. Thankfully I was warned by my friend Elizabeth that most flowers out there have pesticides on them and if I try to wash them, they'll wilt! If you can find edible flowers, definitely use those instead. I couldn't find any and ended up using pre-made gum-paste flowers from a baking store. You may also use fruits as a decoration but note that if the event lasts a few hours, the fruits might weep into the buttercream and you'll have a juicy mess. To add a nice personal touch to your decoration, use a metal photo holder and add cute Polaroid photos of whoever is receiving the cake as a gift. That was the best idea I found on Pinterest!
I hope I've inspired a fellow novice cake baker to roll up their sleeves and bake their very own cake for the next big celebration (or just for the fun of it)! It will be very messy and sometimes frustrating, but the end result is very satisfying!
---
---