Spicy Omelette Inspired by The Hundred Foot Journey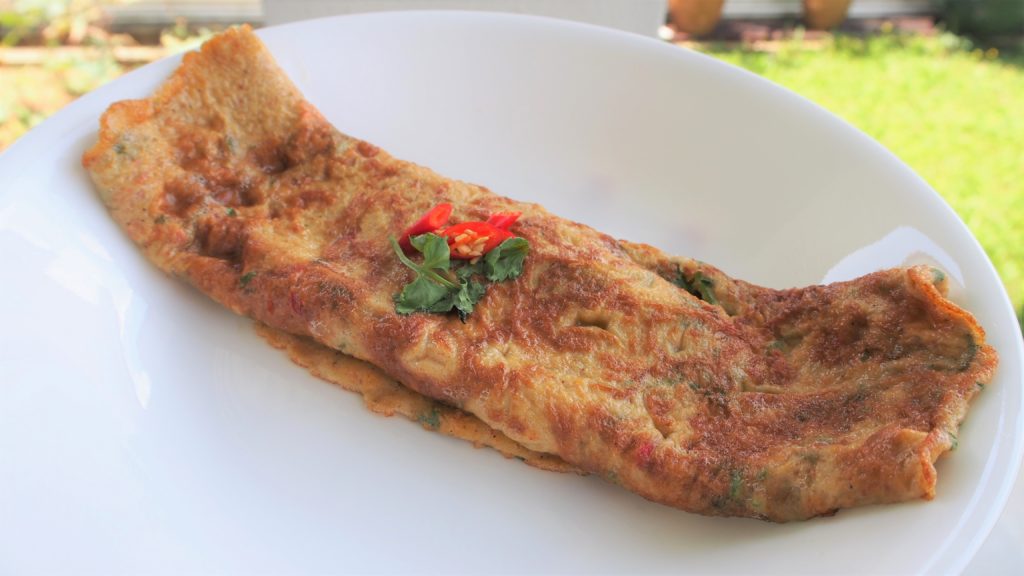 Food-centered books and movies take our minds on culinary adventures to India, France, Italy, China and many more amazing food destinations. One of my favorite books, The Hundred Foot Journey, does just that by melding the food cultures of India and France into a delectable tale of an Indian chef's talent and ambition. Reading the book made me hungry enough but watching its subsequent movie was like watching an Instagram food porn come to life! One particular scene that made me incredibly hungry was of Hassan making the perfect omelette to impress the strict owner of a Michelin-starred classical French restaurant, Madame Mallory.
For years, I've tried to recreate this omelette to what I imagine it would taste like, but each omelette was lacking something. I became bolder in adding various spices to my omelette and I think I've finally captured what Madame Mallory might have tasted (to some degree!). This spicy omelette full of fresh cilantro and crisp onions will add a delicious kick-start to your day!
Spicy Omelette Inspired by The Hundred Foot Journey Recipe
Serves 1
Ingredients:
2 eggs
1 Thai bird's eye chili, diced finely (more for spicier omelette)
2 Tablespoons cilantro (leaves and stems), chopped
¼ teaspoon salt (or to taste)
Pinch of red chili pepper
Pinch of coriander powder
Pinch of garam masala
1 Tablespoon whole milk
½ Tablespoon oil (or unsalted butter)
1 Tablespoon finely diced onions
Method:
Crack the eggs into a medium mixing bowl and gently mix with a whisk. Add all the ingredients except the onions and gently whisk together.
Heat the oil in a medium frying pan over medium-high heat. When the oil is hot, add the egg mixture and spread it around the pan until the pan is covered. Lower the heat to medium-low and then spread the diced onions evenly throughout the egg mixture. When the top surface of the egg is mostly cooked and the bottom is golden brown, use a spatula to loosen the edges of the omelette and gently fold it in half or roll it onto a plate like they did in the movie. It helps to knock the pan to shake the omelette free (a trick I learned watching Madame Mallory!).
Enjoy on its own or with bread or naan.
---
---