Roasted Turmeric Cauliflower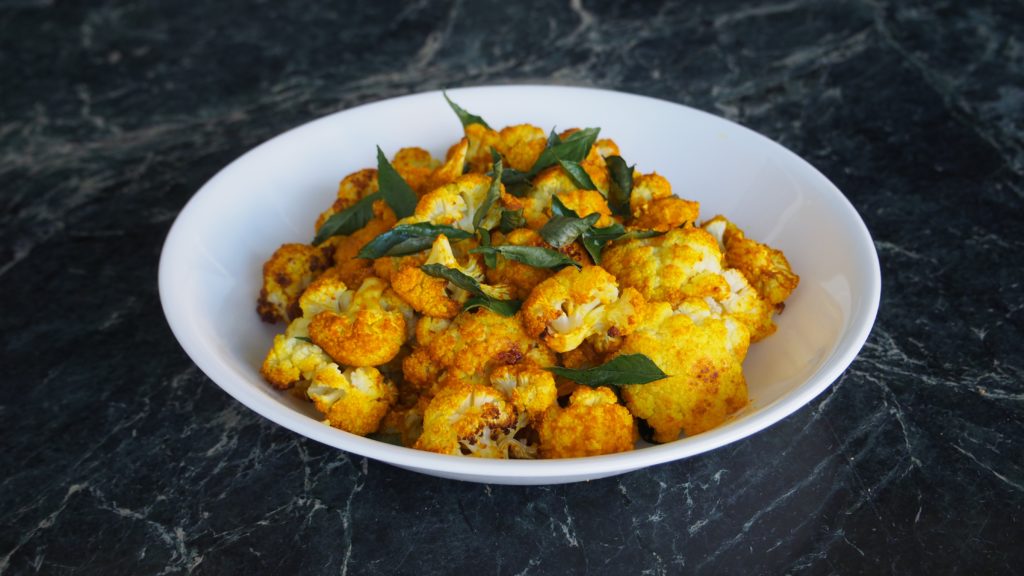 I have to confess, I'm not a huge cauliflower fan especially when it's served raw or steamed without any other flavoring. However, a beachside café in Australia served up a roasted cauliflower dish that knocked my socks off! This may not be an exact recreation but it's very close to what I tasted. Turmeric and cauliflower go together beautifully, and the spice has anti-inflammatory components that are incredibly beneficial to your health. If you are able to get fresh curry leaves, they are the crunchy "oomph" to this delicious and nutritious dish!
Roasted Turmeric Cauliflower Recipe
Ingredients:
1 large cauliflower cut into 1-inch florets (makes approx. 4 cups)
½ tablespoon turmeric powder
1 teaspoon garlic powder
½ teaspoon salt
Dash of cayenne powder (optional)
1 tablespoon coconut oil
10-20 curry leaves (optional but super tasty!)
Method:
Preheat oven at 400℉ (200℃).
Add the cauliflower florets into a large bowl and mix in the turmeric power, garlic power, salt, cayenne pepper and coconut oil. Make sure the florets are evenly coated with all the ingredients.
Spread them evenly on a parchment paper-lined cookie sheet. Roast for about 20-30 minutes or until they are tender and golden.
Wash and dry the curry leaves and sprinkle them on the top of the cauliflower florets after they are cooked. Place the pan back in the oven (that is turned off) and let it rest for about 5 minutes in the still warm oven for the curry leaves to crisp up.
---
---