Thai Pumpkin & Chicken Curry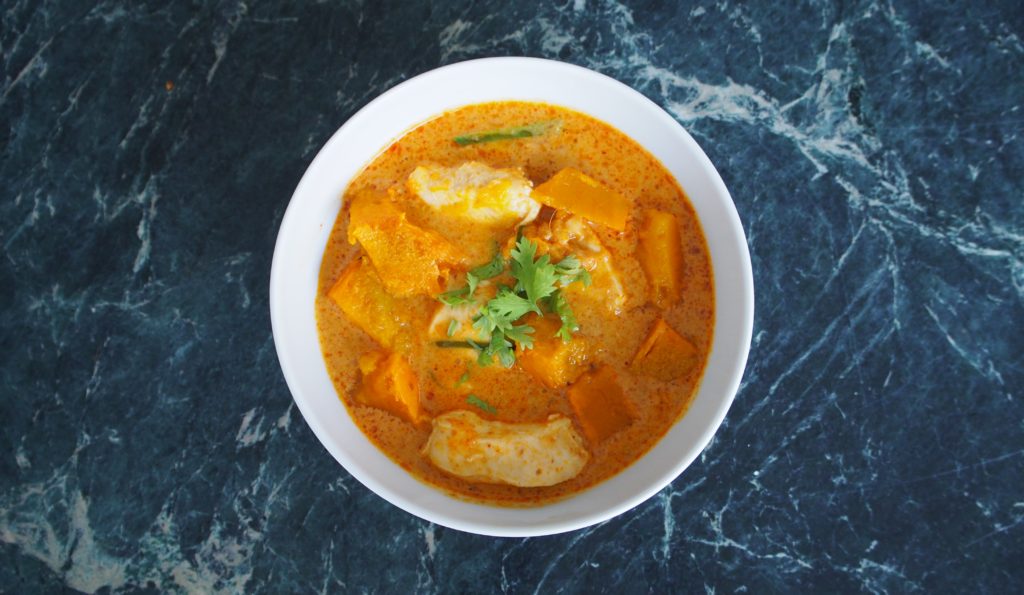 There's something comforting about a hot steaming bowl of Thai curry when the weather gets cooler. These curries are loaded with sweet, salty, spicy and fresh flavors that ignite your taste buds. Pumpkin in particular adds a kick of natural sweetness and lots of nutrition to red curry. You may omit chicken breast and add other types of vegetables and tofu to make it a vegetarian dish.
Thai Pumpkin & Chicken Curry Recipe
Ingredients:
500 g (1 pound) pumpkin, deseeded and cut into big chunks
1 ¾ Tablespoon coconut oil, divided
6 garlic cloves, minced
1 medium onion sliced thinly
2 Tablespoon red curry paste (Mae Ploy brand is recommended)
2 large chicken breasts, cut into bite sized chunks
3 stalks (bottom part) lemongrass bruised
3 kaffir lime leaves sliced thinly (if available)
1 can coconut milk
1 cup water
Salt or fish sauce (optional and to taste)
Method:
Preheat the oven at 200℃ (400℉).
Place the pumpkin chunks on a cookie sheet and drizzle with ½ tablespoon coconut oil. Roast in the oven for 20 to 30 minutes until soft and cooked. Peel off and discard the softened skin from the "meat" of the pumpkin.
Heat up one tablespoon of coconut oil in a large pot over medium meat. Stir in the garlic and onions and fry for a minute or two. Add the red curry paste and fry until fragrant but make sure the onion and garlic don't turn dark brown. Skim the top fatty part of the coconut milk (if available) and fry it together with the paste for a minute.
Add the chicken breast pieces and stir fry to coat the meat with the paste. When the chicken is half cooked, add the pumpkin pieces, lemongrass and kaffir lime leaves, and pour in the rest of the coconut milk and water. Bring to a boil, then lower the heat to a simmer for another 10-15 minutes.
If the curry isn't salty enough, you may add salt or fish sauce to taste.
Enjoy with rice.
---
---