Black Bean Veggie Patties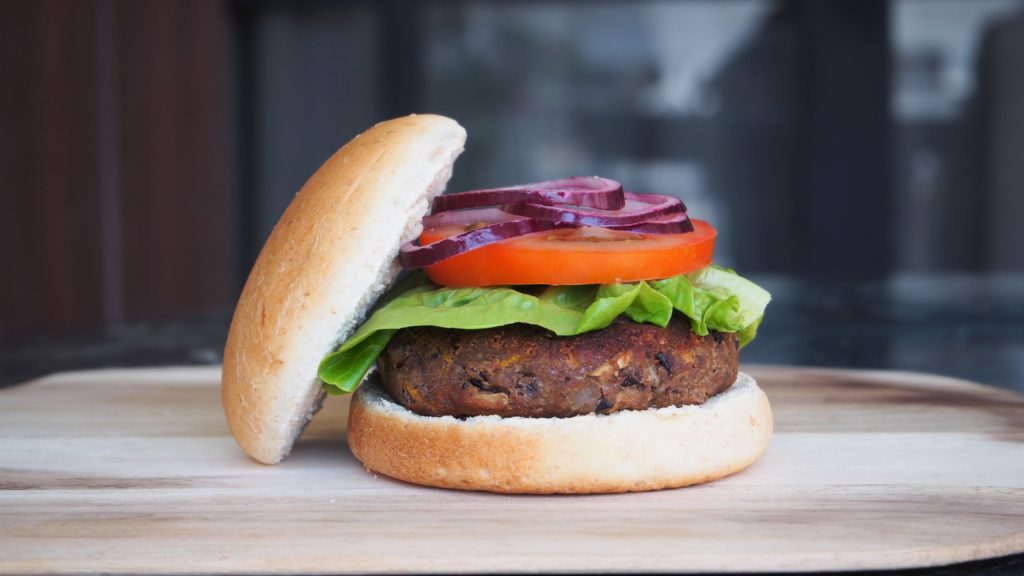 My friend Maria is a genius at throwing things together and coming up with delicious dishes. A few years ago, she made black bean burger patties with flavors that were seared into my memory. This recipe is very much inspired by her addictive dish. To change it up a little, I added a carrot and cilantro for crunch and zest, and cayenne pepper to spice up your life. These veggie patties are hearty, nutritious and most importantly, delicious!
Black Bean Veggie Burger Patties Recipe
Makes 6 to 8 patties, depending on size
Ingredients:
1 small onion, diced (approx. 1 cup)
4 cloves garlic, minced
10 button mushrooms, diced
½ Tablespoon olive oil
1 can black beans (15 oz or 425 g), drained
½ cup grated carrot
1 cup breadcrumbs
1 egg
½ cup Parmesan cheese
½ teaspoon garlic powder
Dash of black pepper or to taste
1 teaspoon cayenne powder (optional or to taste)
2 Tablespoons cilantro, minced (optional or to taste)
1 Tablespoon vegetable oil
Method:
Sautee onions and garlic in olive oil over medium heat. Add mushrooms and dash of salt. Sauté until onions and mushrooms are soft. Set aside to cool.
In a large mixing bowl, mash the black beans with a fork or a potato masher. Mix in grated carrot, breadcrumbs, egg, parmesan cheese, garlic powder and other spices. Add the cooled onions, garlic and mushrooms mixture.
Mix everything together and then form into patties. Refrigerate for an hour for them to set.
Preheat oven to 350℉ (180℃). Line a large baking sheet with parchment paper or foil.
Heat up a tablespoon of vegetable oil in a large pan. Fry each side of the patties for about one to two minutes over medium heat until both sides are golden brown.
Arrange the pre-browned patties on the baking sheet and place in the oven for 10 to 12 minutes or until the patties are cooked.
Place in between your favorite burger bun and top with your choice of fresh vegetables and condiments. If you like a spicy kick to your burger, mix some mayonnaise with a few drops of sriracha sauce, and spread it on the buns.
---
---