Spicy Steamed Otak-Otak (Fishcake)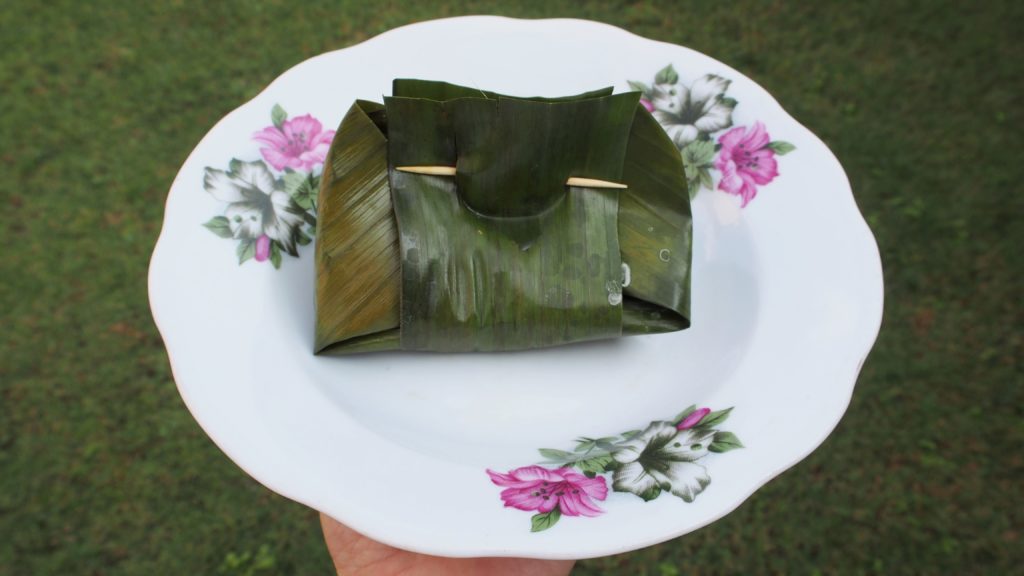 Found in various food establishments in Malaysia, Indonesia and Singapore, otak-otak is a dish of chopped up fish or fish paste combined with spices, tapioca starch or eggs, and wrapped in banana leaves to be grilled or steamed. The name comes from the Malay and Indonesian word otak which means "brains" because the fish cake resembles the organ, especially the milder whitish version found in Indonesia.
This recipe is from a Peranakan family who originated from a small town in Malaysia. The Peranakan is a unique culture created from generations of the beautiful fusion of food, clothing and lifestyles of the Malay and Chinese communities. For Peranakan dessert recipes, check out my blue sticky rice cake and flourless tapioca cake.
Steamed otak-otak is very different from the grilled version. The flavor is milder and has a lovely fragrance especially from the infusion of kaffir lime leaves and coconut milk in the fish cake. It is typically served with plain or coconut rice, amongst a variety of other dishes.
Steamed Otak-Otak Recipe
Ingredients for Rempah (spice paste):
1 inch galangal (blue ginger), peeled and cut into small pieces
2 stalks lemongrass, slice bottom stalk finely
1 inch yellow ginger (turmeric), peeled and cut into small pieces
3 cloves garlic, peeled
5 dried chilies or to taste
10-15 small purple shallots, peeled and cut into half
1 sq. inch belachan (shrimp paste), lightly toasted on a small pan
Main Ingredients:
2 eggs
1.5 cups coconut milk
1 teaspoon Nyonya fish curry powder (or regular fish curry powder)
1 teaspoon salt
8 leper lime leaves (limau purut or kaffir lime) sliced thinly
500 g threadfin fish fillet (or tenggiri/Spanish mackerel), sliced into bite sized chunks
20 daum kaduk (wild pepper leaf) optional
10 banana leaves (18×20 cm or 7"x8"), soaked in hot water to soften, then wiped dry and set aside
Toothpicks
1 pandan leaf, knotted optional
*Most of these ingredients can be found in an Asian grocery store.
Method:
Blend in a food processor or pound the rempah (spice paste) ingredients together until it forms into a fine paste.
In a large bowl, beat the eggs and rempah together and add coconut milk. Mix in a teaspoon of fish curry powder and salt.  Add the leper lime leaves to the mix.
Place 2 daum kaduk (if available) leaves at the centre of each banana leaf and add 2 to 3 pieces of fish. Top it with 2 tablespoons of the rempah and egg mix. Wrap by folding opposites of the banana leaf to meet in the middle, then fold the other two sides to meet. Secure the pyramid with one or two toothpicks. You can also add another 2-inch strip at the bottom of the banana leaf (pictured) before folding it (optional). Here's an example of how to fold it (with a larger banana leaf than I used): https://www.youtube.com/watch?v=bRBveQYlgM4
Add a pandan leaf in the boiling water for more flavour. Place the banana leaf packets on a large plate and steam over rapidly boiling water for 10-15 minutes.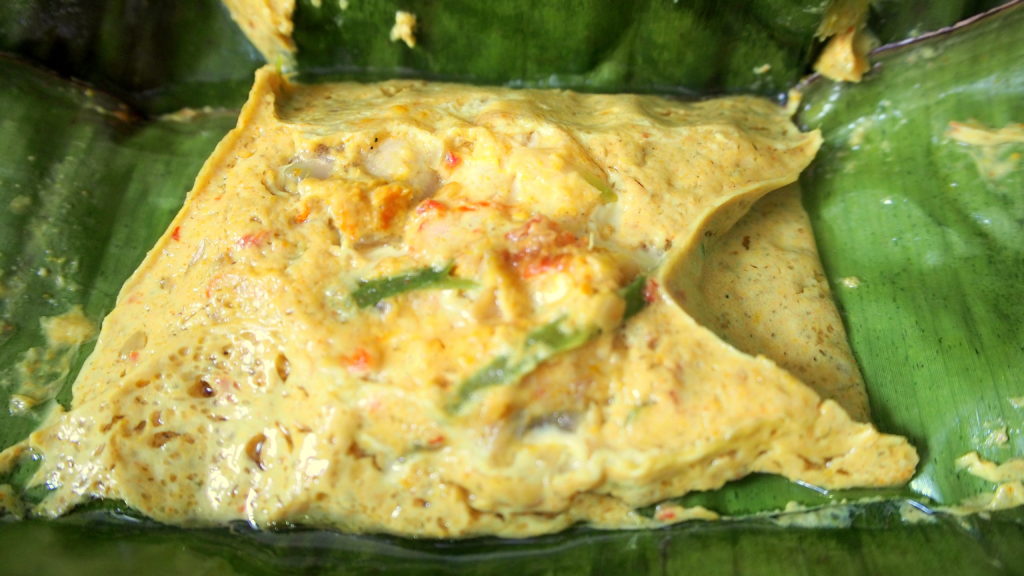 ---
---