Spanish Lentil Stew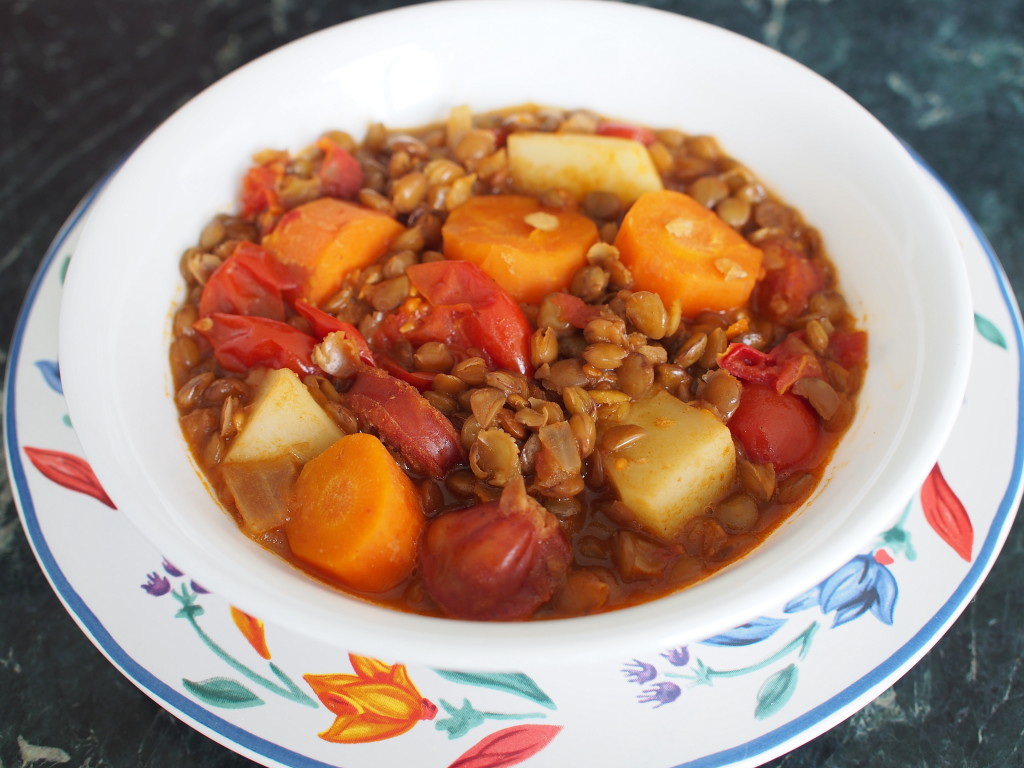 Lentil stew was the very first dish I had when I landed in Spain. I was exhausted and starving, and my friend's mom dished me a huge bowl of homemade lentil stew filled with chorizo, carrots and potatoes. It's not only delicious, it's also filling and nutritious – a perfect dish for the long siestas the Spanish take. I heartily finished the giant bowl of stew and passed out for a couple of hours due to the long, exhausting journey. This lentil stew is comfort food in a bowl, brought to you by a Spanish mom!
This is her recipe with slight modifications.
Spanish Lentil Stew Recipe
Serves 6
1 1/4 cups dry brown lentils, soaked for an hour and drained
1 Tablespoon olive oil
1 large onion, diced
4 cloves garlic, minced
2 medium potatoes, peeled and cut into bite sized pieces
2 medium carrots, peeled and cut into bite sized pieces
1 14.5 oz can chopped tomatoes, or whole peeled cherry tomatoes
1 link Spanish chorizo sausage, sliced into medallions
2 cups chicken stock, or as needed
½ teaspoon paprika
1 bay leaf
Salt & pepper to taste
Heat up the oil in a large pot over medium heat and place the chorizo medallions in the pot. Fry each side of the chorizo until golden brown and remove from the pot.
Using the same pot, sauté the onion and garlic until they're soft and fragrant. Then stir in the carrots and potatoes, as well as the lentils, tomatoes and chorizo. Add the chicken stock, paprika and bay leaf. Bring to a boil and then lower the heat to a simmer.
Place a cover on the pot and let it simmer for 45 minutes until the lentils are soft. It may need more liquid after 30 minutes. Add 1/4 to half a cup of chicken stock or water if the stew is drying up.
Enjoy on its own or with a loaf of crusty bread.
---
---