Top Vegetarian Restaurants in Singapore
When I travel, I find it a challenge to eat enough healthy fruits and vegetables on the go, especially when I'm not cooking my own meals. This can be doubly difficult for vegan and vegetarian travelers who are visiting countries with a meat-heavy diet. Fortunately for them, Singapore has a huge array of vegetarian cafes, restaurants and food stalls selling nutritious, affordable and incredibly delicious dishes. Even though I'm not vegetarian, I do love my veggies! Here is a list of amazing vegetarian restaurants that everyone will love:
20 Havelock Road, Central Square, #01-04
Tel: (65) 6339-9993
Closest MRT Station: Clarke Quay
Opening Hours: Daily, 11 a.m. – 3 p.m., 6:15 p.m. – 9:30 p.m.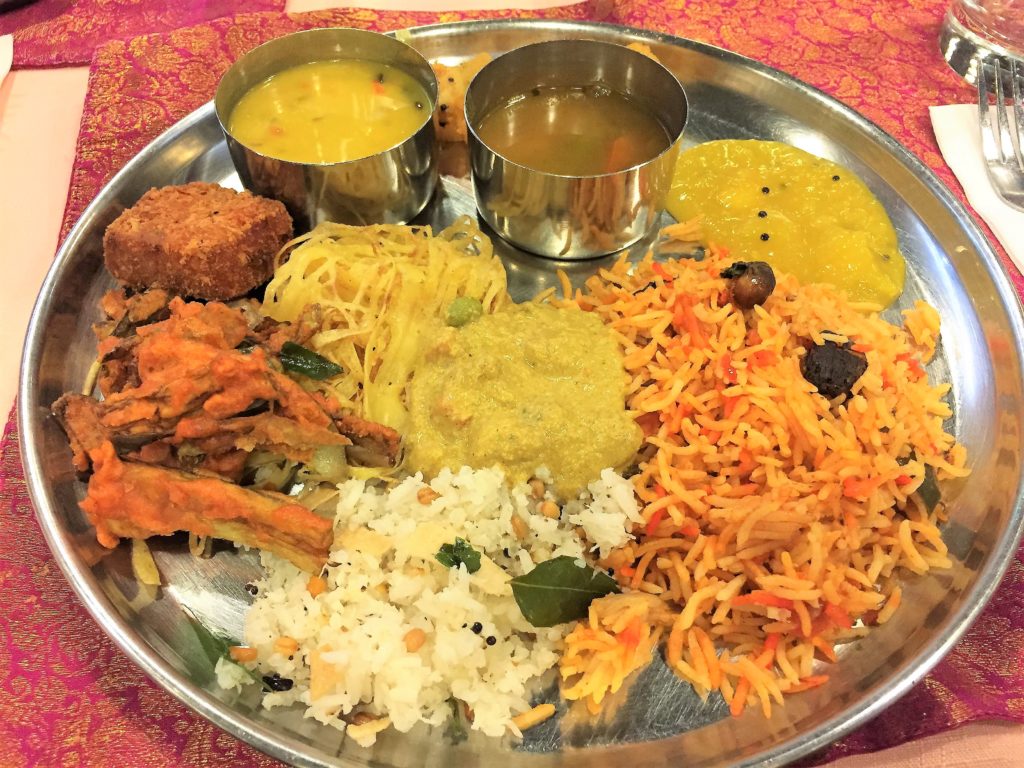 Annalakshmi stands out in so many ways. First of all, it's a non-profit restaurant where there are no prices on the menu. You pay as you wish, and as much as you can afford, and the proceeds go to supporting the Temple of Fine Arts. Everyone who "works" there is a volunteer, including the cooks, wait staff, dishwashers, etc. You can taste the difference in their food compared to the food served in a traditional restaurant. It tastes like a grandmother is cooking in the kitchen, sending her love and care into each dish. It's incredibly special and amazingly delicious! The food is served buffet style so you can try all sorts of dishes you may not be familiar with. It gets especially crowded on the weekends, so it's best to give them a call and reserve a table.
229 Joo Chiat Road, #01-01
Tel: (65) 6348-6318
Closest MRT Station: Dakota (20 min walk). It's better to take a bus there.
Opening Hours:
Monday – Friday: 11:30 a.m. – 3 p.m., 6 p.m. – 9 p.m.
Saturday – Sunday: 11:30 a.m. – 9:30 p.m.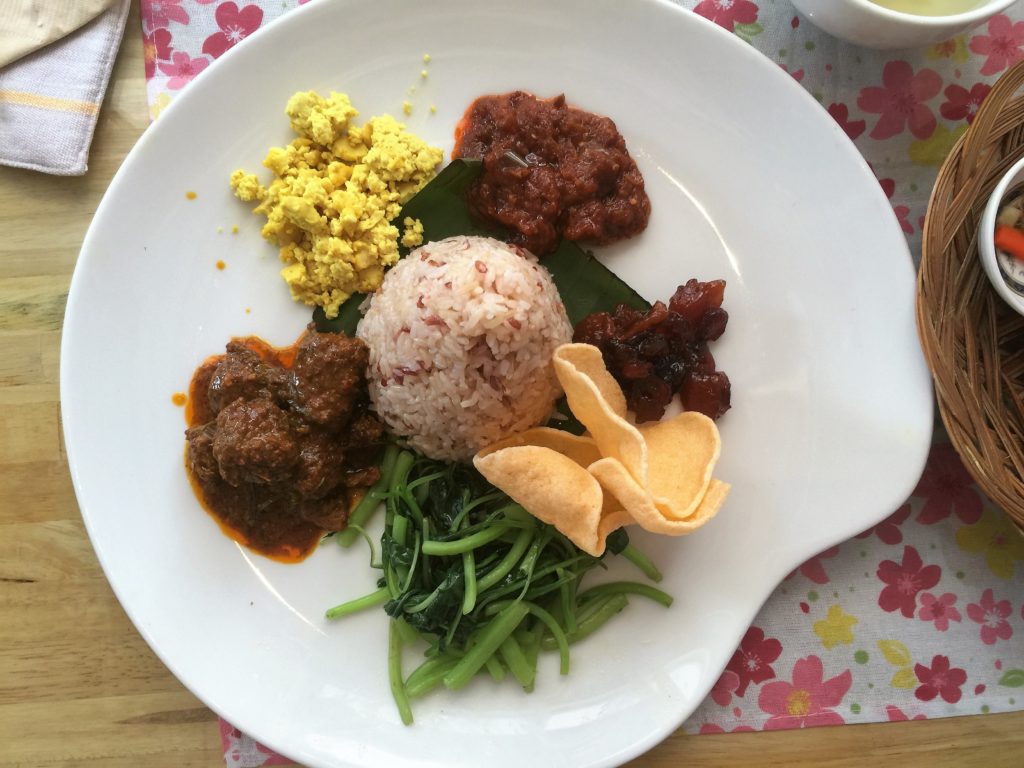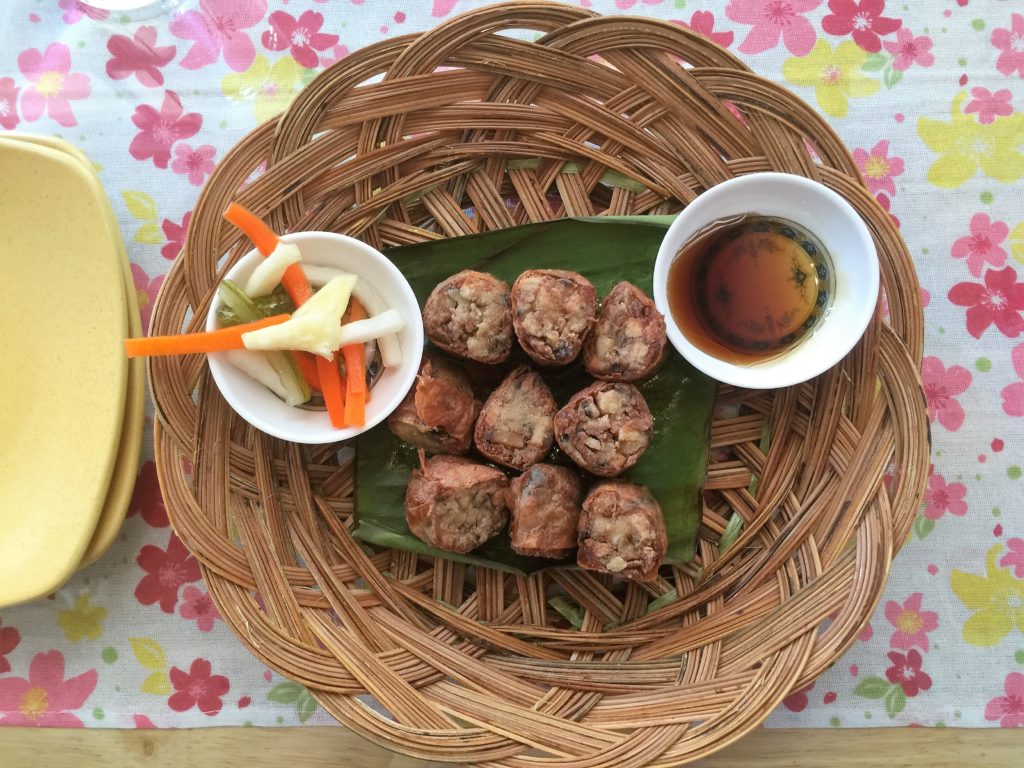 I used to dine at the Loving Hut in Sacramento and was very surprised to learn that it's part of a family of vegan restaurants with more than 200 outlets worldwide! The restaurant in Sacramento served Thai-style dishes but the one in Singapore has more of a local flavor. They take traditional local dishes like "kway chap" (braised pork dish) and "laksa" (curry broth with prawns and fishcake) and turn it vegan. The nasi campur (rice dish pictured) is my favorite! It's coconutty and spicy, and tastes like the original meat dish. The restaurant is situated in the Joo Chiat neighborhood which is a lovely area to walk around. There are small cafes, antique shops and beautiful Peranakan shophouses to take photos of. It's very Instagrammable!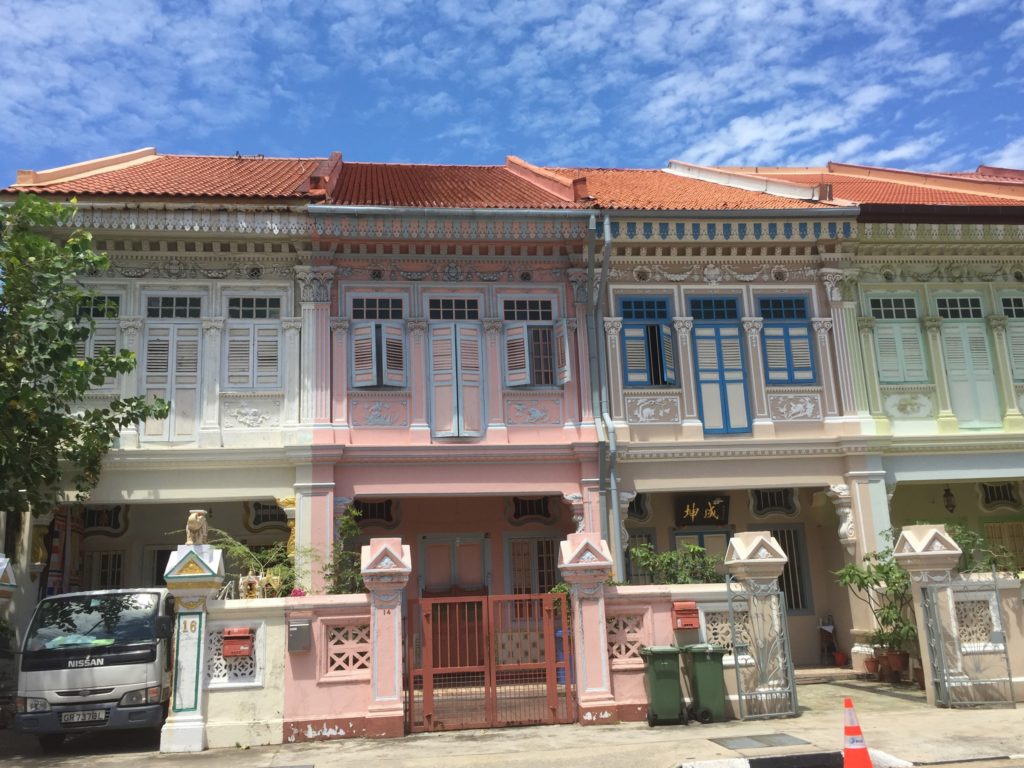 Ci Yan Organic Vegetarian Health Food
8 Smith Street
Tel: (65) 6225-9026
Closest MRT Station: Chinatown
Opening Hours: Monday – Sunday, 12 p.m. – 11 p.m. (but call to check! Sometimes they close early or on certain days).
Located in the heart of Chinatown, Ci Yan stands out in its lack of flashiness. It's very unassuming and you may just walk right past it thinking it's a book store or Buddhist education center with all the books stacked up against the window. The restaurant is run by an elderly couple and their two sons. They have daily specials written on a board and prices are incredibly reasonable (less than S$10) for a restaurant right smack in the middle of a tourist area. The dishes consisting of rice, noodles and soup, are simple but hearty, and are made with such care. They make you feel at home, like you're dining at your aunt's house instead of a restaurant. Lovely people, lovely food!
Teng Bespoke Japanese Vegetarian Dining
91 Bencoolen Street, #01-50 Sunshine Plaza
Tel: (65) 6884-6884
Closest MRT Stations: Bugis, Bras Basah, Dhoby Ghaut
Opening hours: Daily, 11:30 a.m. – 3 p.m., 5:30 p.m. – 10 p.m.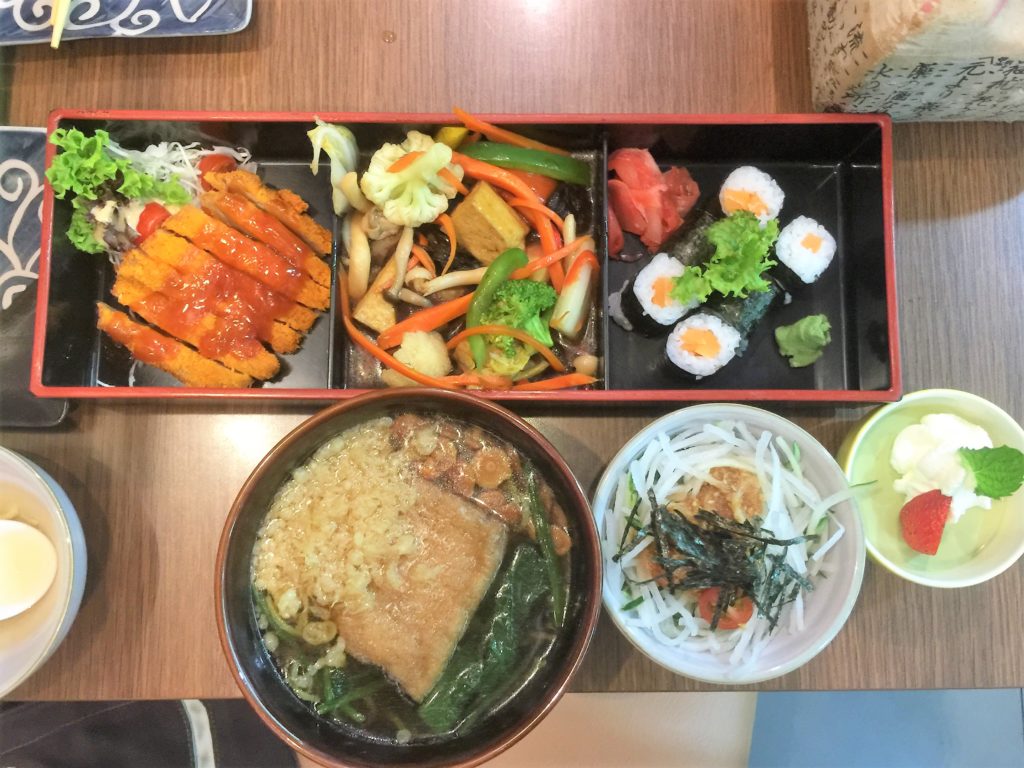 My vegetarian friends typically have a hard time finding something to eat in Japanese restaurants. Almost everything has a meat or fish element to it, and even if they wanted plain noodles, the broth is made from pork bones or fish stock. Teng Bespoke takes traditional Japanese meals and turn them completely vegetarian. The flavors are all still there, even the umani sort of seafood flavor, but they're all made with vegetables. If you blindfolded me and had me try their "tuna" sushi alongside the real deal, it would be difficult to tell the difference! It's quite amazing how they are able to turn a simple carrot into sashimi. Even the texture is on point! It's no wonder this restaurant is always packed so reservations are encouraged.
181 Orchard Road, #12-01 Orchard Central
Tel: (65) 6838-6966
Closest MRT Station: Somerset
Opening hours: Daily, 12 p.m. — 3:30 p.m., 6 p.m. — 10:30 p.m.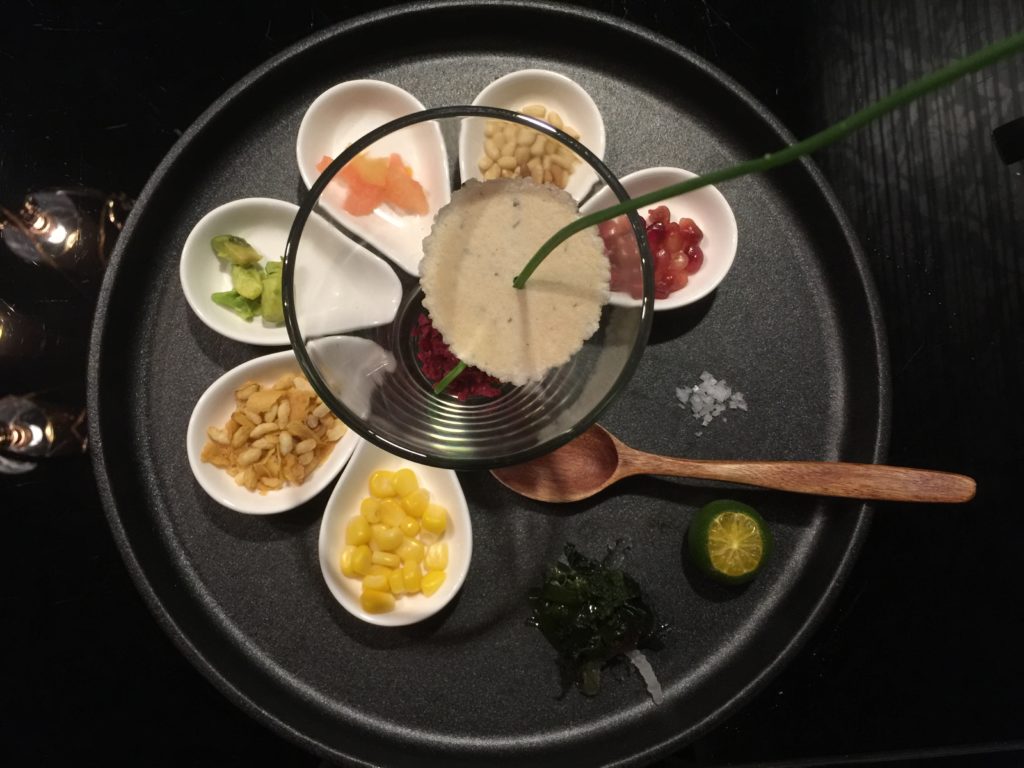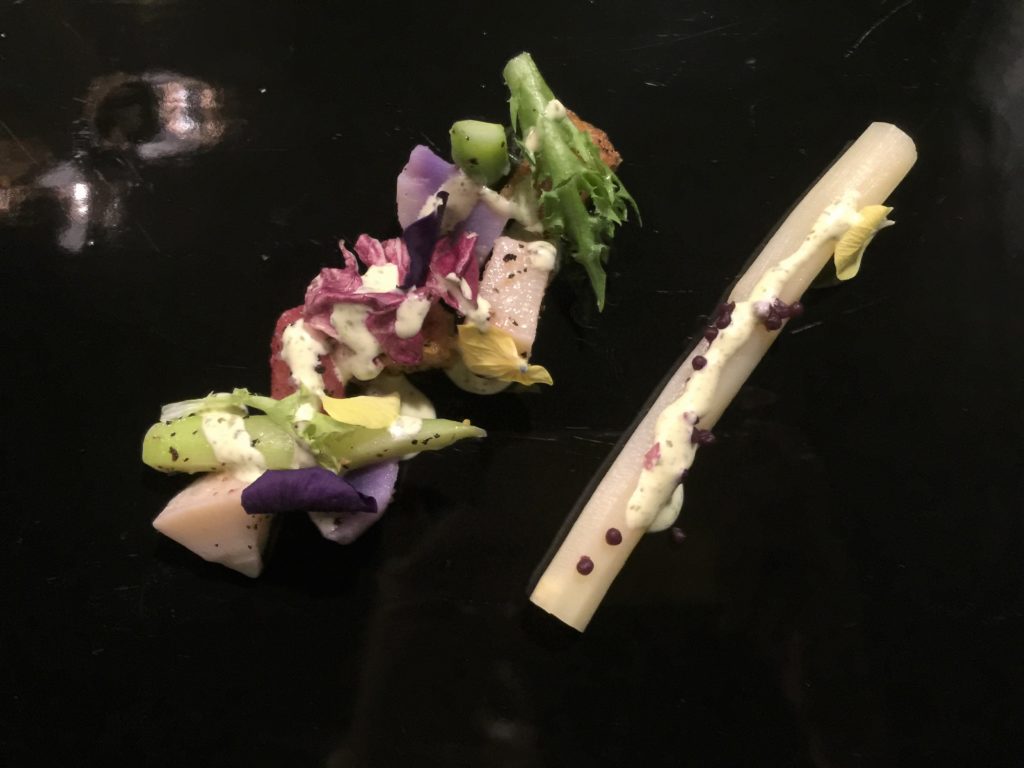 The priciest restaurant in this list (about S$40+ for lunch and S$70+ for dinner), Joie has all the boxes ticked in terms of fine dining – gorgeous atmosphere, artfully plated dishes, attentive service, and delicious food. Lunch consists of six courses and dinner has seven, and you get to pick from a list of fusion Japanese/European choices. It was hard to decide! You will end up getting food envy no matter what you order because you'll end up eyeing your friends' dishes. I'm not a mushroom fan but my friend's mushroom steak served on hot stone was way more interesting than my ravioli! It's a wonderful dining experience and still much more affordable than many other fine dining restaurants. This restaurant is located in the heart of Singapore's shopping district, Orchard Road, so you can burn some of those veggie calories on a shopping spree.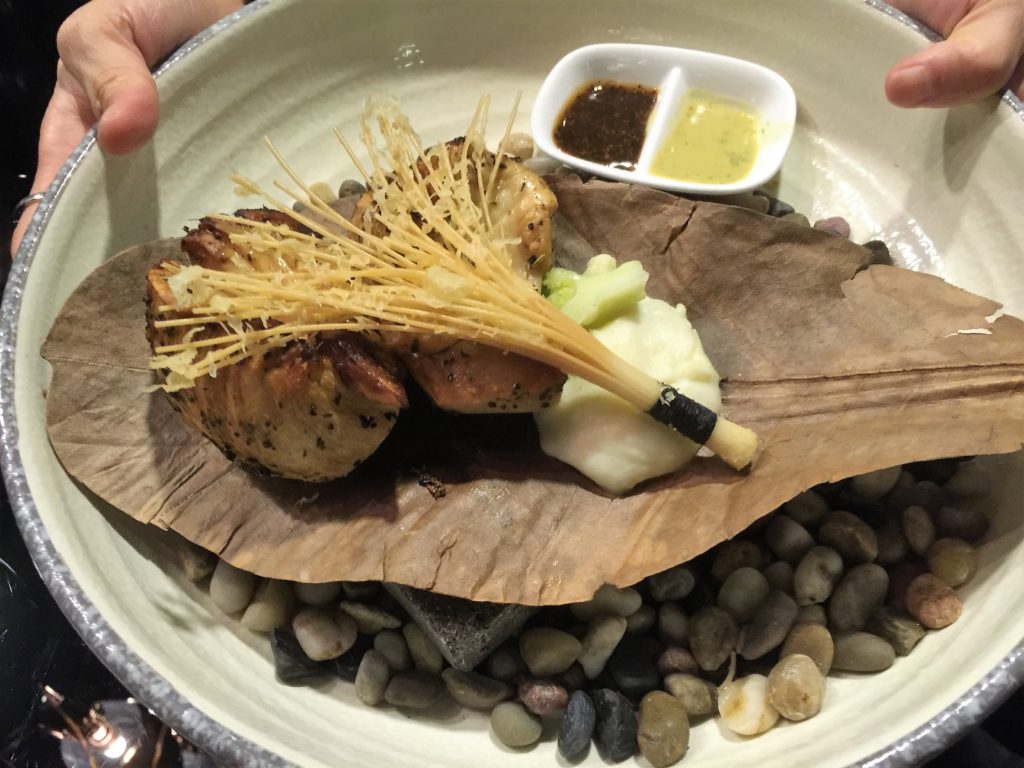 252 North Bridge Road, #02-19
Tel: (65) 6333-5338
Closest MRT Station: City Hall
Opening hours: Daily, 11:30 a.m. – 3 p.m., 5:30 p.m. – 10 p.m.
Originally from Taiwan, Sufood is a bright, cheery and casual restaurant featuring a fusion of East meets West type of cuisine. It has a set menu of eight courses with a huge range of choices that also include a drink and dessert. This is also an opportunity to taste what an Asian idea of "Western" food is like. It's very tasty but definitely different from what an authentic Italian meal is like! I tried the handmade charcoal pasta (resembling squid ink pasta) topped with mushrooms. It was so good that I forgot to take a photo because I was gobbling it down like a ravenous beast! After pigging out on the eight courses, you will be happy to know that Sufood is centrally located in a mall (yes another one!) that is walking distance to many of the tourist sites like the Esplanade, National Gallery, Raffles Hotel, and Marina Bay Sands (a wee bit further but it's a nice walk!).
There are many other vegetarian restaurants around the city. You can find incredible vegetarian Indian restaurants in the Little India neighborhood and Chinese restaurants in Fortune Center (a mall that's right next to a Buddhist temple). Even hawker centers and food courts have stalls selling vegetarian dishes. You will be spoilt for choices in this clean and green city!
This article has been converted into a GPSmyCity travel app. Click on this link to download the article app for free on your smartphones and upgrade to get an offline map and point-to-point walking directions!
---
---