A Food Lover's Guide to Singapore
There's no greater love story than that of Singaporeans and food. Food is the very heart and soul of this busy cosmopolitan island-nation, and no matter what time of day or night it is, you will find people enjoying their meals in hawker centers, hole-in-the-wall coffee shops, or trendy cafes. There are restaurants serving practically every cuisine from French to Indonesian to Mexican, but when you visit Singapore, you should eat like a local. I've featured popular dishes that you may also find in other Southeast Asian countries but there are a couple that are quite unique to Singapore. All of the dishes below can be found at hawker centers (more on that later) and food courts throughout the city.
Breakfast:
Roti Prata and Dosai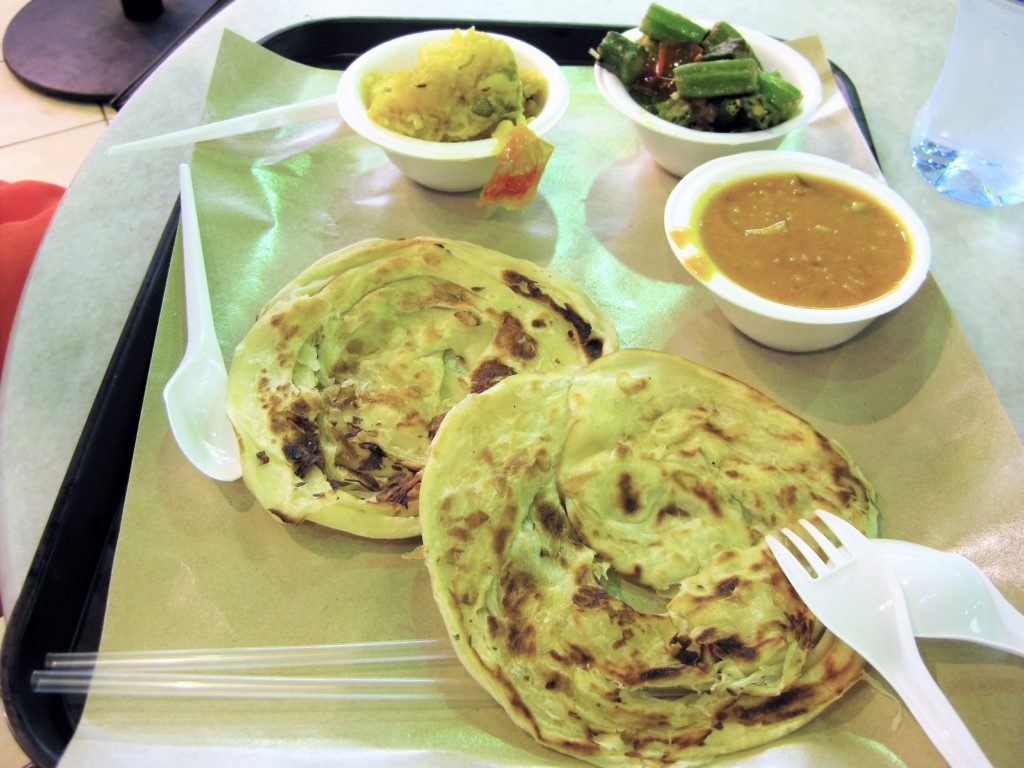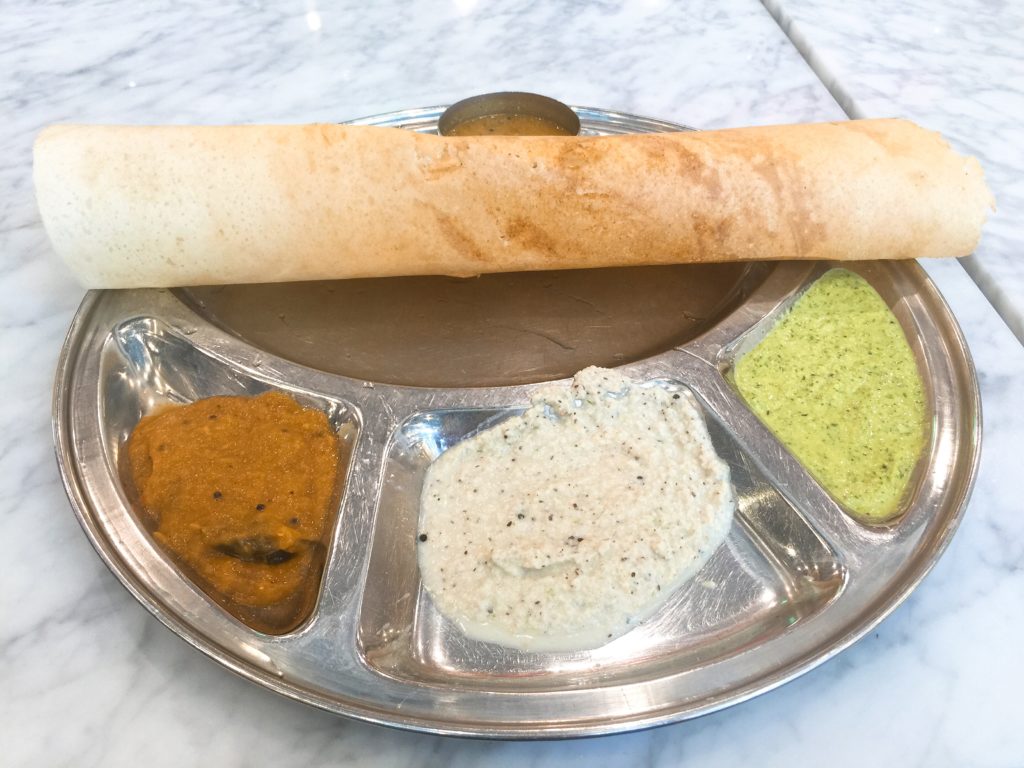 This can be best described as a savory Indian pancake that's served with a side of curry (you may ask them for fish or vegetable). The same stalls may also sell the healthier dosai (kind of a sourdough tasting crepe) which is just as tasty as roti prata.
Mee Pok Ta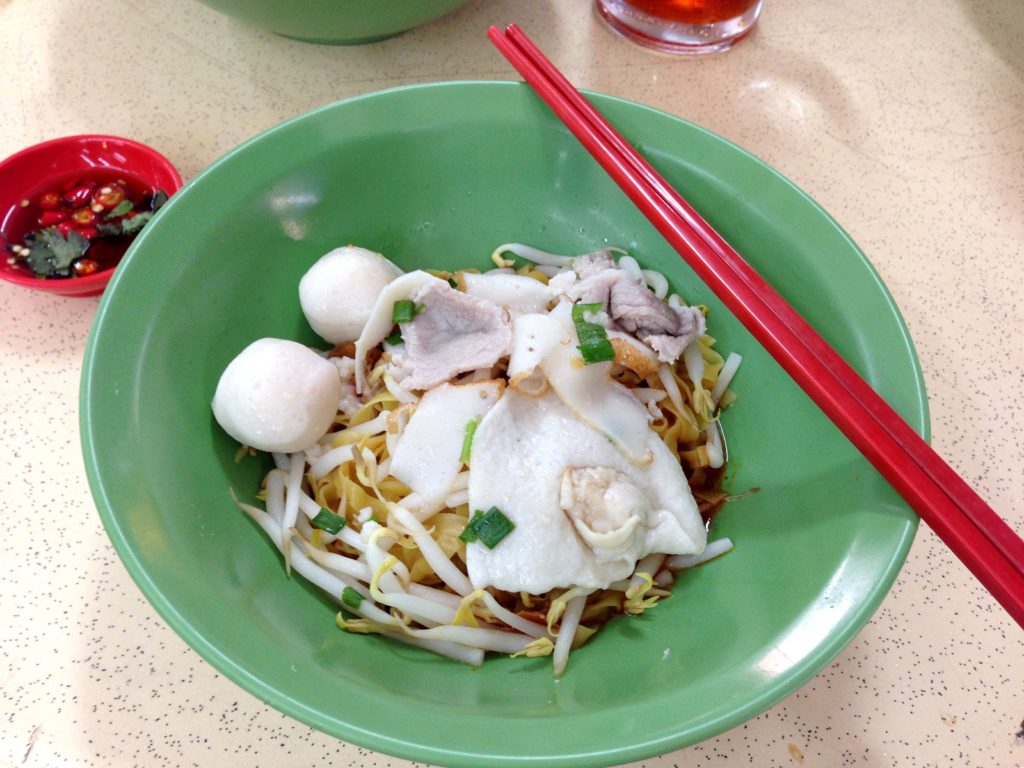 Mee Pok Ta (dry flat egg noodles) is a dish that's first brought over by Chinese immigrants back in the day and has evolved over the years to become typically Singaporean. The noodles are tossed in a sauce made of soy sauce, oil, black vinegar and chili, and served with fishball and/or fishcake. The flavor is spicy, savory and sour, and will awaken all your taste buds!
Nasi Lemak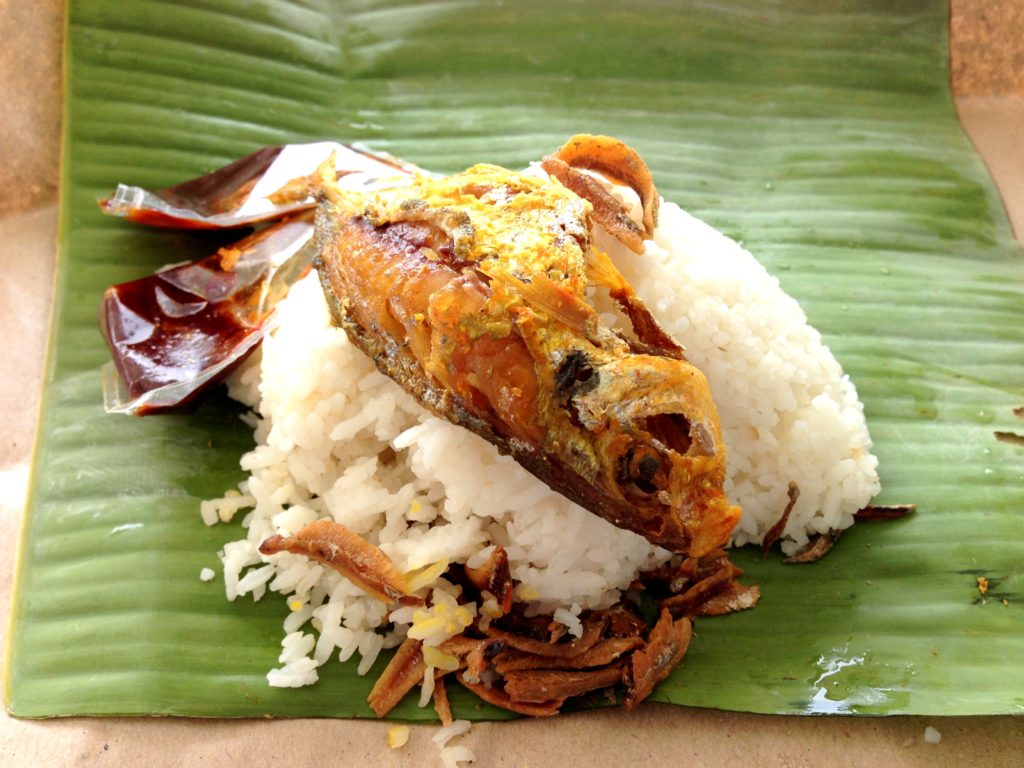 Nasi lemak is a popular Malay dish that consists of rice cooked in coconut milk and topped with crispy anchovies and peanuts, a sweet and spicy chili paste, and sometimes a fried egg and fried whole fish, all wrapped up in a banana leaf. I don't typically eat with my hands but somehow, nasi lemak tastes better if you use your fingers to eat it!
Chwee Kweh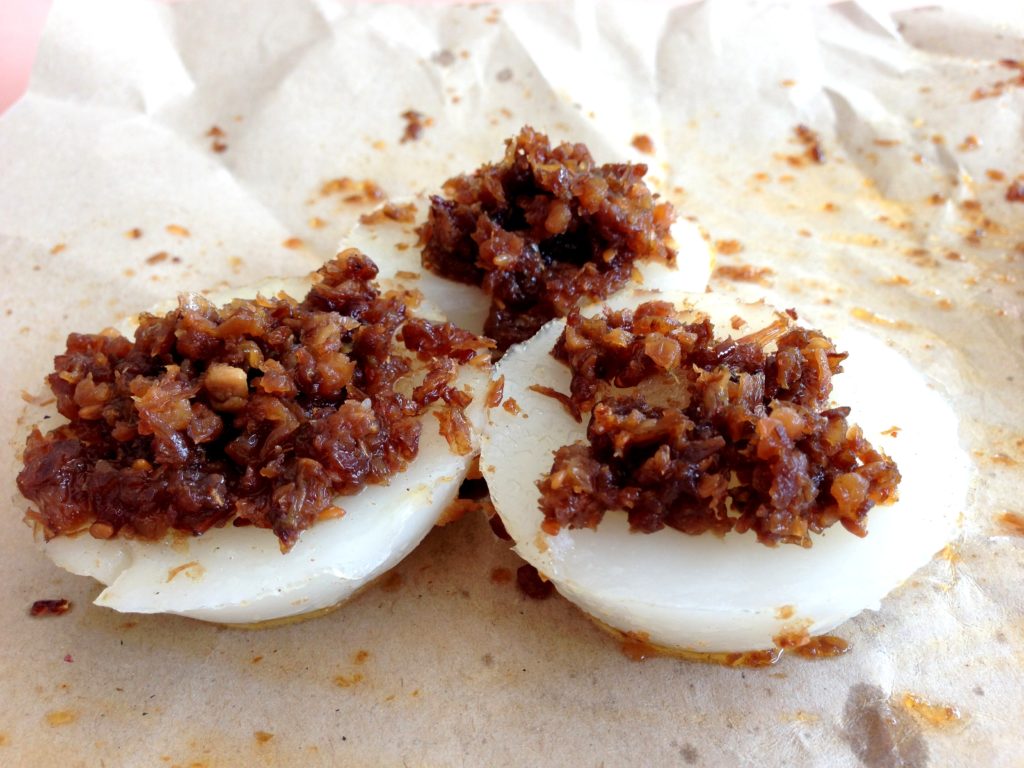 This dish is unique to Singapore so you should give it a try! It's basically a savory steamed cake made from a mixture of rice flour and water. They're steamed in little metal cups and then topped with fried preserved radish and chili sauce. One word – yummy!
Lunch
Wonton Mee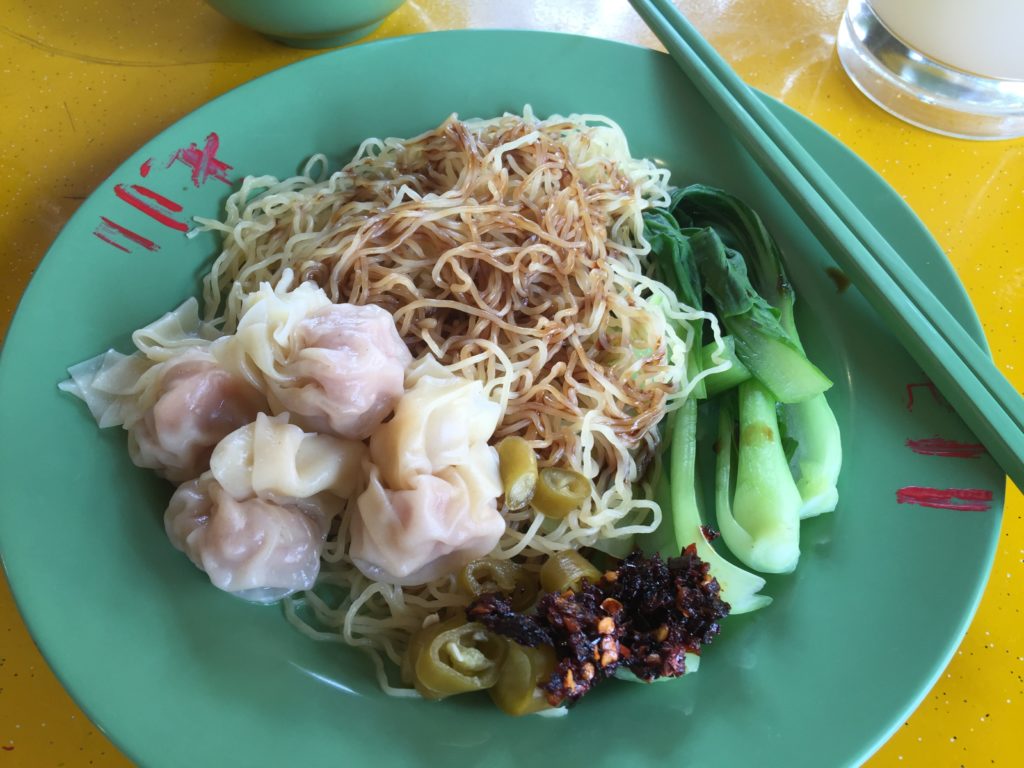 Wonton mee (noodles) may have originated in Hong Kong but this dish is a favorite lunch item for locals. Various stalls have their own versions of sauces (especially the roasted chili sauce) and some stalls make their own noodles. They can be found anywhere from hawker centers to more expensive Cantonese restaurants.
Chicken Rice
Chicken rice is known as the national dish of Singapore. It was brought over by Hainanese immigrants but has evolved to become quintessentially Singaporean. The rice is cooked in chicken broth with ginger and garlic, and topped with poached chicken meat and sliced cucumbers. The most important aspect of chicken rice is the chili sauce that goes with it. The sauce is spicy, sour and gingery, and goes splendidly with the rest of the dish.
Laksa
Laksa is a Peranakan dish that shows you the glorious combination of two cultures in one bowl. Thick rice noodles (Chinese) marry with a coconutty spicy curry-like broth (Malay) to give you this very special dish. There's a different version in Malaysia that uses a sour tamarind fish broth but they are both exceptionally delicious.
Fried Kway Teow
Wide rice noodles is stir fried in a hot wok with dark soy sauce, chili, cockles, bean sprouts and prawns. This dish is sweet, salty, spicy, and rather addictive!
Dinner
Chili Crab & Pepper Crab
Chili crab can also be regarded as Singapore's national dish especially since it was created by a Singaporean hawker in the 1950s. Fresh crab is stir fried in a sweet, spicy and sour sauce that's thickened by eggs. The best part of the dish is the sauce! You have to order a side of deep fried dough (mantou) to dip into the sauce. I can't emphasize that enough!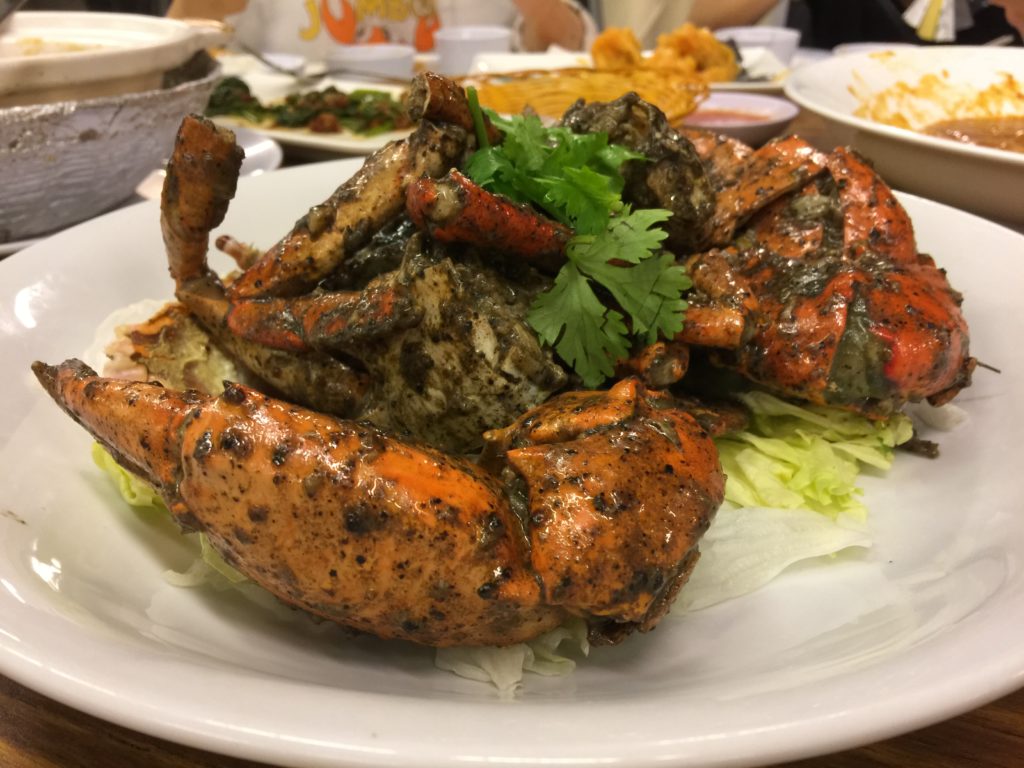 Pepper crab is actually much spicier than chili crab. The crab is coated with lots and lots of black pepper before being stir fried dry. It doesn't have a sauce but all the intense black pepper flavor has been infused throughout the meat. These dishes are rather big so it helps if you have a larger group of people to eat with.
These crab dishes can be found in seafood restaurants such as Jumbo Seafood and No Signboard, and hawker centers such as Newton Circus Food Center and Telok Ayer Market. Not all hawker centers will have them so it's good to make sure before you head over.
Satay & BBQ Chicken Wings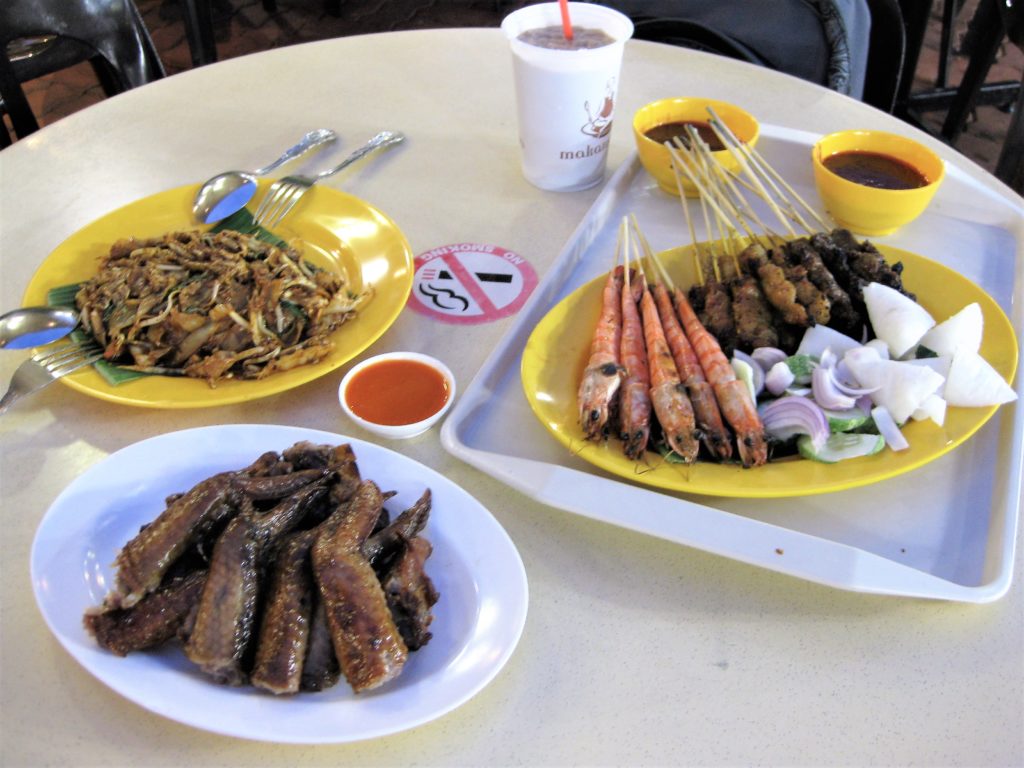 These are definitely dinner dishes because most satay operators won't start selling them until the evening. You'll have a choice between marinated chicken, beef, mutton, or pork (if you want pork satay, you'll have to look for Chinese satay sellers). The meat skewers are served with thick spicy peanut sauce, cucumbers, onions, and rice cakes.
You can also order BBQ chicken wings from the satay sellers. Trust me, these are the most amazing wings you will have in your entire life! They're marinated with soy sauce, garlic, ginger and honey, and slow grilled over charcoal. Dip them in the chili sauce provided and you'll be transported to flavor heaven!
Hawker Centers
There are excellent hawker centers in the city center that makes it much easier for travelers to pop into and then continue with the rest of your sightseeing. Hawker centers are basically large spaces in a building to house smaller food stalls. Before tougher government regulations, Singapore used to have street food vendors selling out of their carts. In order to ensure good food hygiene, the government require these hawkers to rent stalls with proper plumbing, gas stoves and refrigeration.
There's a peculiar Singaporean custom to chope (reserve) tables at these hawker centers using their umbrellas or tissue packets. So if you see something on the table, it's spoken for! People are generally friendly and are willing to share the table with you if you ask, especially when it's really crowded.
Chinatown Complex Food Center
335 Smith Street
Closest MRT Station: Chinatown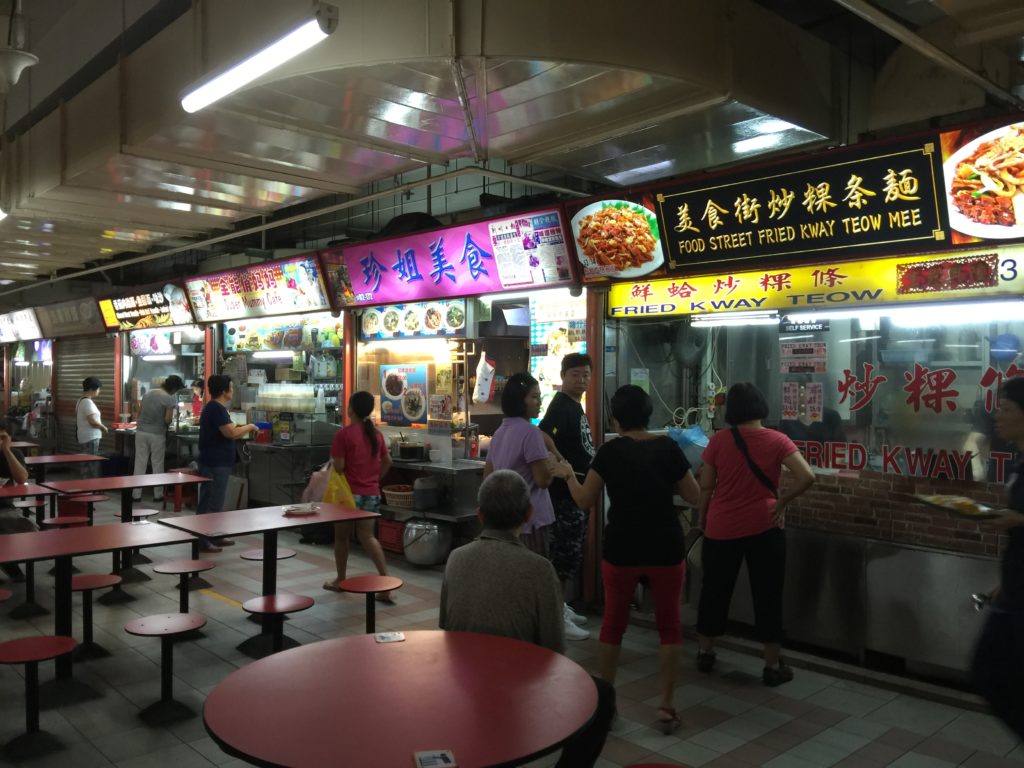 This food center is HUGE and it's situated in the heart of Chinatown. Skip the touristy Chinese restaurants and head over here for some authentic local food!
Famous for: Char Kway Teow, Claypot Rice, Hong Kong chicken noodles, chwee kueh.
Tekka Center
665 Buffalo Road
Closest MRT Station: Little India
Tekka is in Little India and there's also a market selling fresh meat, seafood and vegetables in the same building. There are lots of vegetarian options in Tekka and nearby restaurants.
Famous for: Northern and Southern Indian food, roti prata, curries galore.
Maxwell Food Center
1 Kadayanallur St
Closest MRT Station: Tanjong Pajar
Maxwell was featured in Anthony Bourdain's travel show "No Reservations" where he tasted the famous "Tian Tian" chicken rice for the first time.
Famous for: chicken rice, Mee Pok Ta, wonton mee, nasi lemak.
Telok Ayer Market (also known as Lau Pa Sat)
18 Raffles Quay
Closest MRT Stations: Telok Ayer and Downtown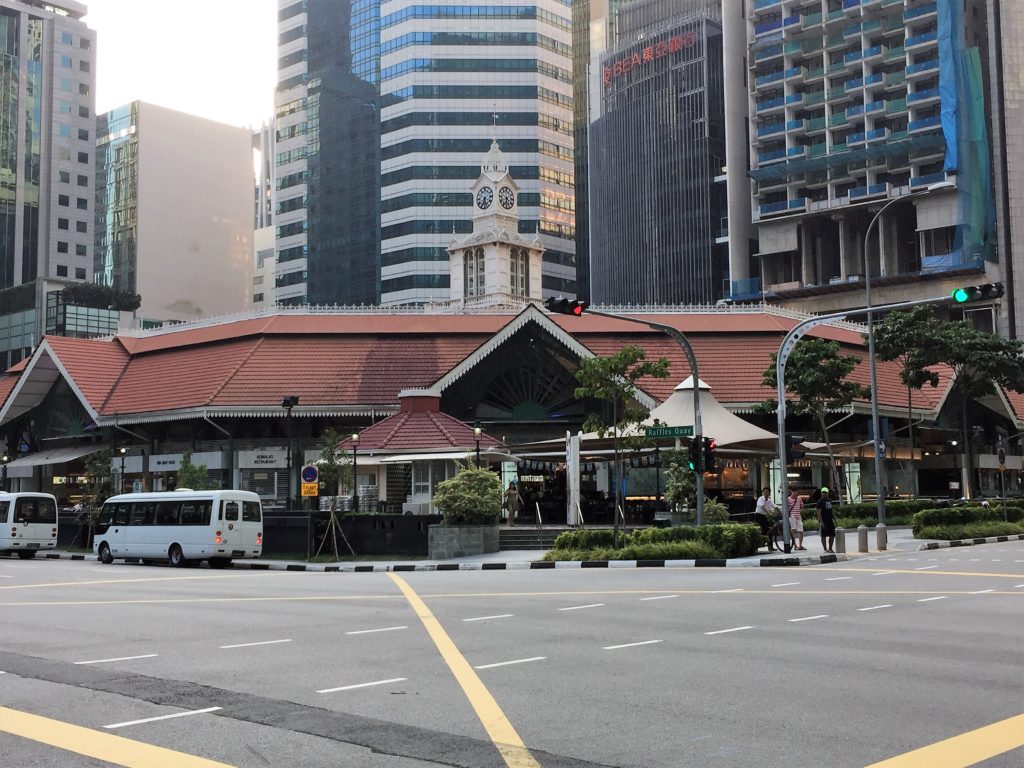 Situated in the financial district of Singapore, this quaint building is surrounded by fancy high-rise office buildings. It's extremely crowded during lunch time from 12 to 2 p.m. but crowds will ease up after that.
Famous for: a historical and very pretty building, satay (at night), thunder tea rice, char kway teow, mee pok ta, Japanese desserts.
Newton Food Center
500 Clemenceau Avenue North
Closest MRT Station: Newton
This is Singapore's most well-known hawker center and is very popular with tourists. Unlike the other hawker centers mentioned, Newton has an open-air concept so it's probably better to go there in the evening and when it's not raining.
Famous for: chili crab, BBQ stingray, satay, oyster omelette, BBQ chicken wings.
Singapore is a really hot and humid country so if you feel like the afternoon sun is too overwhelming, you can pop into any mall and there'll be a food court (sometimes even 2) with stalls serving similar meals. They're slightly more expensive than hawker centers because you're getting air conditioned comfort, and some of the dishes may lack that authentic flavor honed by a hawker who has been perfecting their dish for 20-30 years. But in a pinch, food courts are actually decent substitutes when you're hot and hungry!
Vegetarians and omnivores who love their veggies, check out my recommendations for the top vegetarian restaurants in Singapore on this link!
This article is now available as a mobile app. Go to GPSmyCity to download the app for GPS-assisted travel directions to the attractions featured in this article.
---
---