Coconutty Roasted Veggies
My friend Wuen is a really good cook and knows how to magically throw together dishes that not only look good but taste amazing as well! Oh a whim, she decided to roast a bunch of veggies with coconut oil and top it with a gravy of coconut cream. The result was this really fragrant dish that had hints of spiciness from the red chilies and nuttiness from the coconut oil. The coconut cream gravy with pink peppercorns beautifully complements the roasted vegetables too. Pink peppercorns are not spicy like black or white peppercorns and have a delicate floral flavor that infuses perfectly in the coconut cream.
Many of you may not be familiar with chigu, a root vegetable we added in the roast. It's also known as arrowhead and is typically sliced really thin and deep fried like chips. The flavor and texture reminds me of parsnip, so you are welcome to substitute the vegetable with parsnips or potatoes if you can't find chigu in your local market.
Coconutty Veggie Roast Recipe
Ingredients:
4 medium carrots, peeled and chopped into 1 inch pieces
6 French red shallots, peeled and halved
8 peeled garlic cloves
1 large eggplant, cut into 1 inch thick slices and halved or quartered (depending on how large the eggplant is)
1 packet chigus (approximately 10) peeled and halved
3-4 large red chilies, halved and seeded
¼ cup coconut oil
Salt & white pepper to taste
24 pre-peeled chestnuts
Gravy:
2.5 cups coconut cream
3 Tablespoons pink peppercorns, roughly pounded (or to taste)
¼ cup vegetable broth (optional)
Method:
Preheat the oven to 200℃ (400℉).
Place the ingredients, except for the chestnuts, into a large mixing bowl and mix in the coconut oil and salt and pepper. Make sure all the ingredients are well coasted and seasoned before placing them evenly in a large foil-lined tray.
In a small saucepan, simmer the coconut cream with the pink peppercorns for 10 to 15 minutes. Leave it aside to let the peppercorn flavor infuse into the coconut cream. If you find the cream too thick, you may add ¼ cup of vegetable broth whilst simmering.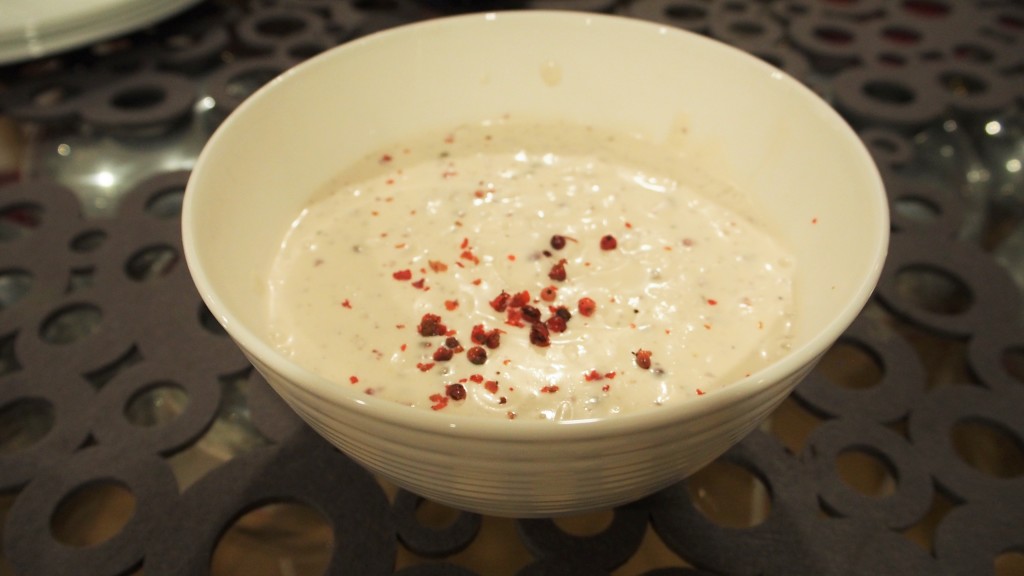 Roast the vegetables for about 1 to 1.25 hours or until the veggies are soft. Then take out the tray and toss in the raw chestnuts and roast for another 15 to 20 minutes to cook the chestnuts. Serve with the coconut cream gravy. Enjoy it on its own or with couscous and other delicious vegetable sides!
---
---