Vegetarian Quinoa Enchilada Soup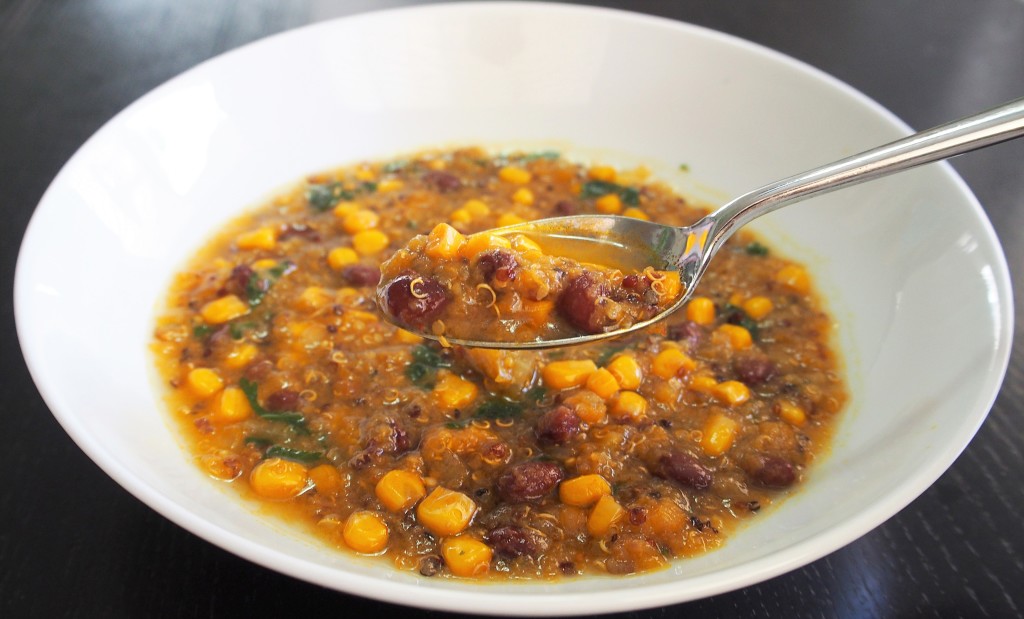 This soup is ridiculously easy to make and is ridiculously delicious as well! My friend Dianne, the creator of this recipe, works full time and is a mom to three young active boys. She doesn't have time to cook complicated meals so she threw together this soup one day and it worked out perfectly! Not only does it take less than 30 minutes to make from start to finish, it's also a substantial one-pot dish that freezes really well. In fact, I tried the frozen version and can attest that it tasted just as good as freshly made soups.
Easy Vegetarian Quinoa Enchilada Soup Recipe
Ingredients:
1 Tablespoon olive oil
1 white onion, diced
2 (15 oz) cans of corn, drained
2 (15 oz) cans of black beans, drained
2 (28 oz) large cans Las Palmas* mild green enchilada sauce
0.5 cup dry quinoa, rinsed and drained
1 carton vegetable broth (1 quart)
1 large bunch cilantro, chopped
*Las Palmas works the best in this recipe but feel free to use your favorite green enchilada sauce.
Method:
Add olive oil to a large pot over medium heat. Sauté the onion until soft. Add the corn, black beans, enchilada sauce and mix well. Stir in the quinoa and vegetable broth. Bring to a boil and then simmer uncovered for about 15 to 20 minutes or until the quinoa is soft. Stir in the chopped cilantro when the soup is ready.
That's it! Easy peasy!
---
---