Roasted Butternut Squash Thai Curry Soup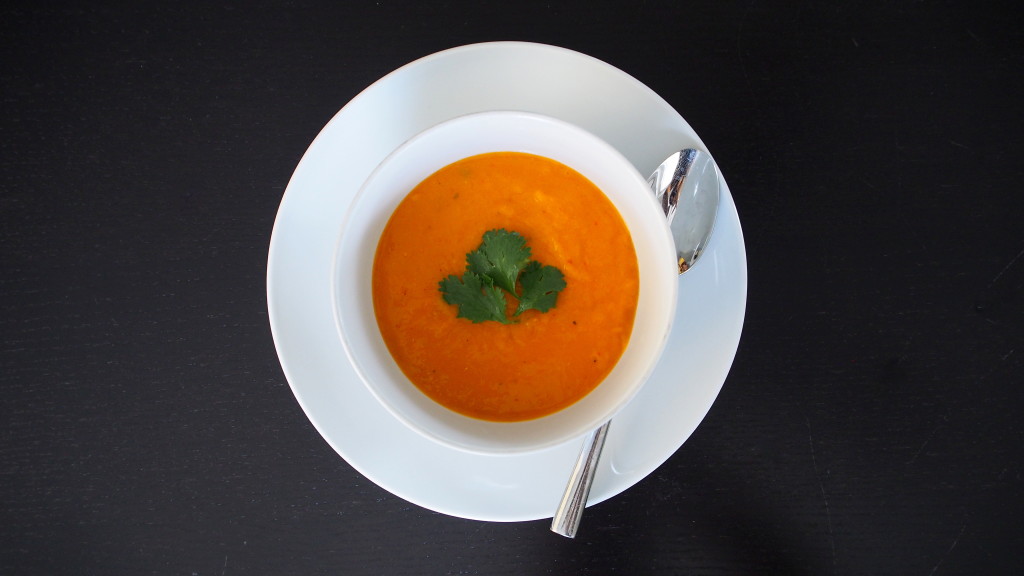 Autumn is a favorite time of year for a lot of people. The weather is cooling down, the leaves are changing, and there's a sense of warmth and cosiness in the atmosphere. What I love about autumn is the abundance of delicious vegetables like Brussels sprouts, sweet potatoes and butternut squash – the star of today's recipe. I was adding butternut squash in a variety of dishes but I wanted to try something new. I came across Cookie + Kate's Thai Curried Butternut Squash Soup and thought that it was a brilliant idea to combine curry and soup (my two favorite things) together.
I adapted her recipe with a couple of changes. I find that roasting the butternut squash intensifies the sweetness and flavor much more, and it certainly enhances any dish you add it to. It's my favorite way to prepare this beautiful veggie!
Thank you Cookie + Kate for the yummy inspiration!
Roasted Butternut Squash Thai Curry Soup Recipe
Serves 4-6
Ingredients:
1 large butternut squash, peeled and cut into smaller pieces
1 Tablespoon grapeseed oil
1 Tablespoon coconut oil
1 onion, diced
6 cloves garlic, diced
3 Tablespoons Thai red curry paste*
4 cups vegetable broth
¾ cup coconut milk
1 tablespoon lime juice
Salt and pepper to taste
Bunch of cilantro, chopped
*Try and get the ones from Thailand sold in Asian grocery stores. I especially love the Mae Ploy brand that can be found on Amazon as well.
Method:
Pre-heat the oven to 400 degrees. Place the butternut squash pieces on a parchment paper-lined cookie sheet and brush them with grapeseed oil. Season with salt & pepper and roast them for about 30 minutes or until soft and cooked.
Heat up coconut oil in large pot and fry the diced garlic and onion. After a minute or two, add the curry paste and keep frying until the paste becomes fragrant and the onions are soft. Add the cooked butternut squash and vegetable broth. Bring to boil and simmer for 10 minutes. Use an immersion blender or regular blender to purée the soup. Add coconut milk, lime juice and chopped cilantro to the puréed soup. Stir together and return to a simmer for a few minutes until hot. Serve immediately with an optional topping of chopped cilantro.
---
---