Wuen's Smoked Salmon Salad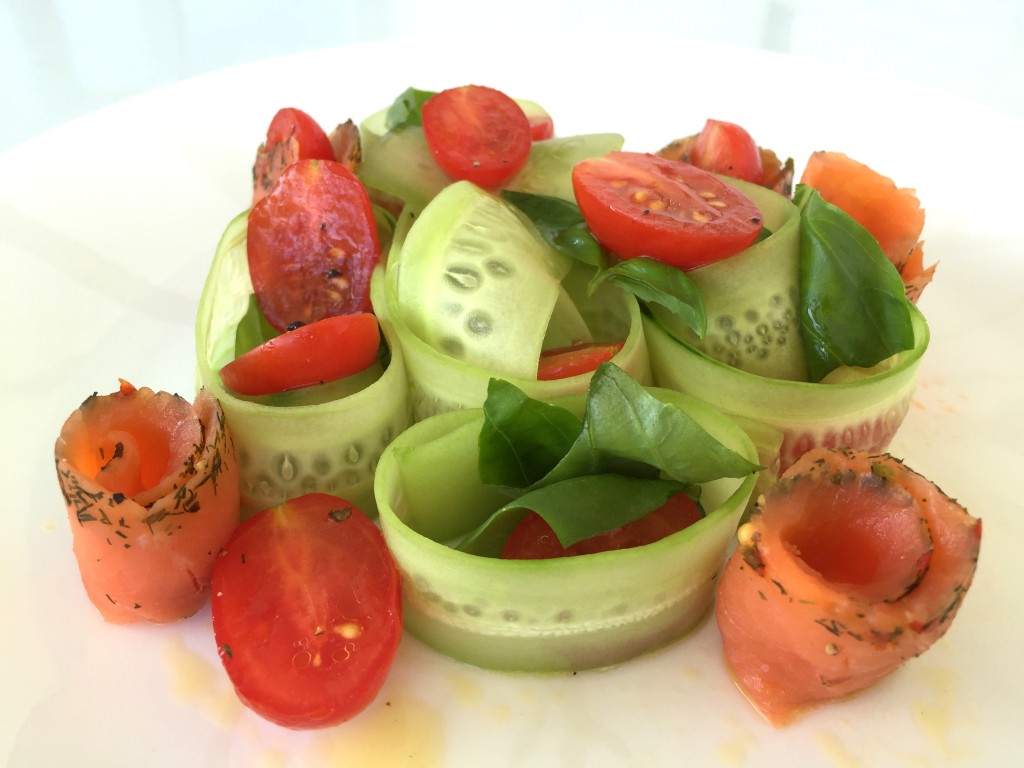 My friend Wuen should be a contestant on one of those cooking competition TV shows. She can think up a dish on the spot and create something that is not only visually stunning but is also incredibly delicious. I watched as she put together this dish and immediately wanted the recipe. She was like "oh there's no recipe, I'm just making this up!"
As every Masterchef judge would say, "This dish is restaurant quality." Yes indeed, she would smoke the competition!
Smoked Salmon Salad Recipe
Serves 4
Ingredients:
1 carton vine-ripened Roma tomatoes (200g or 7oz)
2 Japanese cucumbers
1 packet herbed smoked salmon (200g or 7oz)
½ cup basil leaves
Dressing:
Juice of 1 mandarin orange
2 Tablespoons extra virgin olive oil
¼ teaspoon salt or to taste
Pepper to taste
Method:
Whisk together the ingredients for the dressing.
Slice the tomatoes in half lengthwise and marinade them in the dressing while preparing the other ingredients.
Trim the ends of the cucumber and then peel off the skin using a vegetable peeler. Using the same peeler, carefully slice the cucumber lengthwise into long, thin ribbons.
Roll the smoked salmon into little rounds and set aside. Set four plates and assemble your dish whichever way you prefer. You may roll the cucumber ribbons into rounds as well and decorate your plate with equal amounts of ingredients. Drizzle the dressing over each plate of salad and serve immediately.
---
---