Mini Pavlovas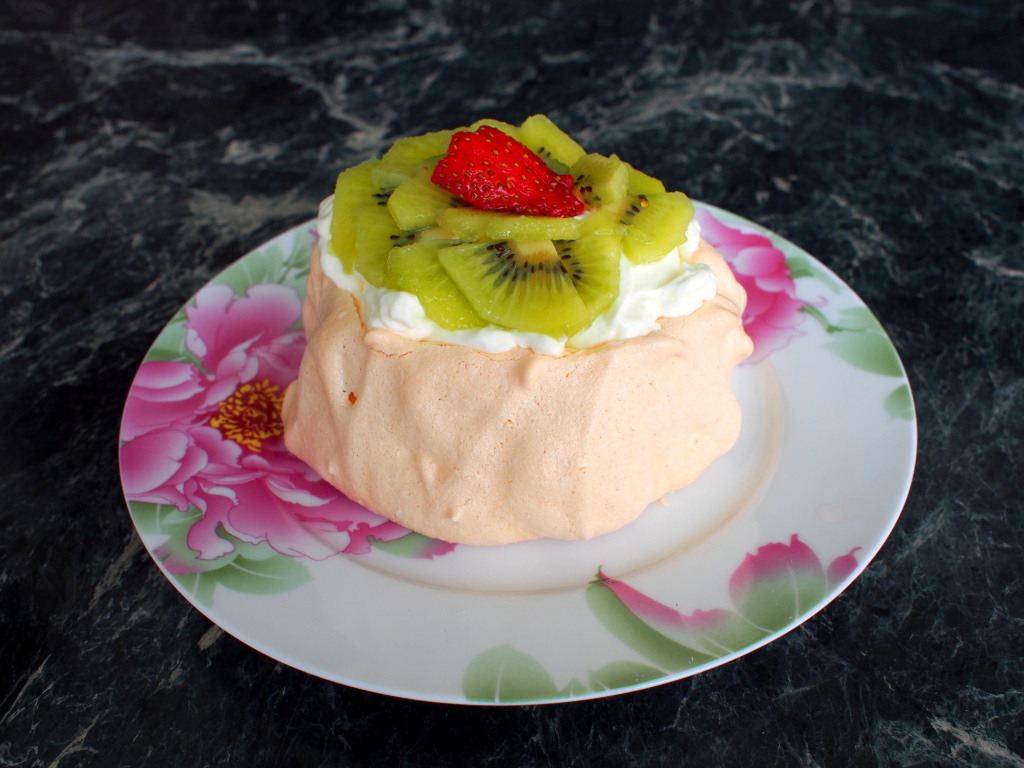 Need an easy, light, beautiful and tasty dessert for your next dinner party? Look no further than the cloud-like pavlova. The meringue dessert was created in New Zealand to honor the Russian ballerina, Anna Pavlova, who performed there and in Australia in the 1920s. According to Keith Money, a Pavlova biographer, a chef at a hotel in Wellington, New Zealand created the dish when the ballerina visited the country in 1926. The look and texture of the pavlova is inspired by the beautiful tutu she was wearing, which was adorned with green silk roses. He added whipped cream and kiwi on top of the meringue for the same artistic effect.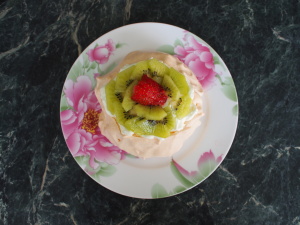 The dessert is immensely popular in both countries leading to each country claiming it as their own. It's served at holiday meals, particularly at summertime, but is enjoyed year-round too.  This is one of my go-to desserts for celebratory meals which typically have large, heavy dishes. The pavlova has a light, crispy exterior and when you cut into it, the inside is marshmallowy and soft. Since it's a pretty sweet meringue, I don't add any sugar to the whipped cream. I also like adding tart fruits like kiwi and strawberries to the top, just to balance out the sweetness.
If you're using your oven for other dishes, start the pavlovas early so you can cool them in the oven and prep everything else. Set them aside to cool and only top with the whipped cream and fruits right before serving.
Mini Pavlovas Recipe
Makes 4 individual servings
Ingredients
4 egg whites
1 cup white sugar or unrefined sugar
2 teaspoons corn flour
1 teaspoon vanilla
1 teaspoon fresh lemon juice
Kiwis and/or strawberries, sliced into small pieces
1 cup whipping cream
Preheat the oven at 300°F (150°C) if using a conventional oven, 260°F (130°C) for fan-assisted.
Trace around a 4-inch cookie cutter or bowl with a pencil onto a piece of parchment paper. Turn the paper upside down onto a baking sheet, pencil side down.
In a large mixing bowl, use an electronic beater to beat the egg whites until they are soft peaks. Slowly add the sugar one tablespoon at a time whilst beating the egg whites until stiff. The egg whites will have a glossy texture at this point. Add the corn flour, vanilla and lemon juice and give it a slow whisk to combine everything together.
With a large spoon or small icing spatula, slowly drop four equal sizes of egg whites onto the parchment paper. Use the circles as a guide to how big they should be. Create a small indentation on the top using your icing spatula and smooth the sides upwards into a wave.
Bake the pavlovas for 30 minutes. When they are done, leave them to cool for about two hours in the oven with the door cracked open an inch or so.
Whip up the cream right before serving. Top each pavlova with a few dollops of cream and a sprinkle of fruits. Serve immediately.
Tip: if you live in a hot climate, make sure that your bowl and utensils are very cold before you whip your cream (if you're whipping fresh cream). Cool down your stainless steel mixing bowl in the freezer prior to using. This way, the cream won't turn into cottage cream-like consistency! I learnt that the hard way.
---
---