Indonesian Corn Fritters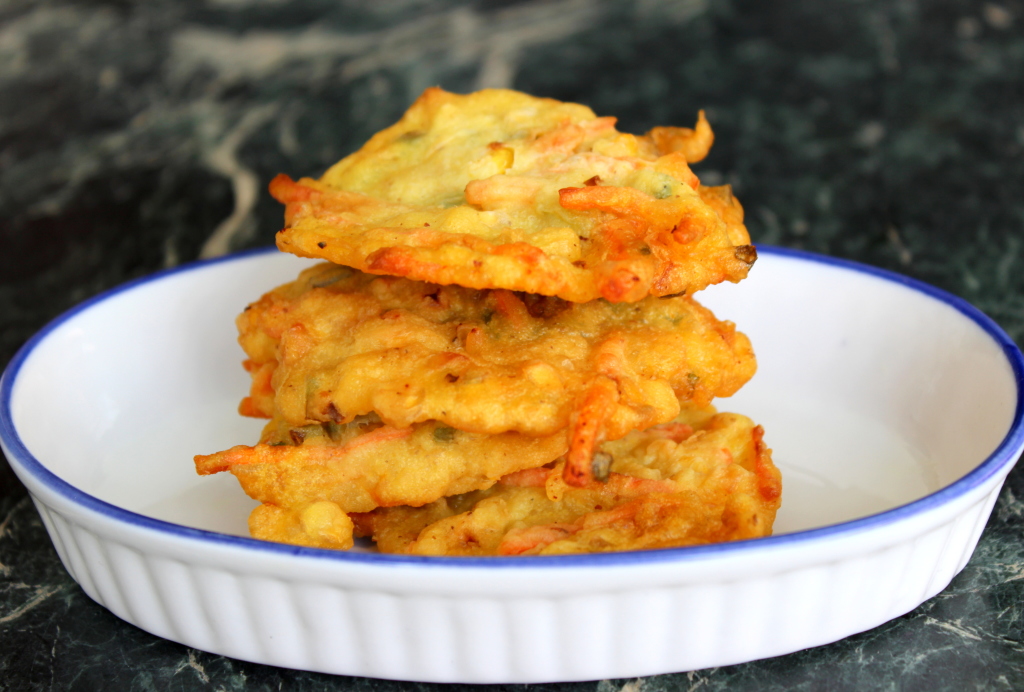 Anyone who knows me well can attest to my obsession with corn. I like it in all preparations – grilled, in salads, in soups, as ice cream (sweet corn ice cream can't be beat!), cooked in Japanese potato croquettes and sprinkled on top of pizza. I even like canned corn! Corn is simply the BEST!
Another excellent way to enjoy corn is in the form of Indonesian corn fritters. These snacks are savory, sweet and even a little spicy. It's best to use fresh corn for this dish but you can substitute thawed frozen ones if they're not in season.
Indonesian Corn Fritters Recipe
Yields 10 small corn fritters
Ingredients:
2 cups corn (approximately from 2 ears of corn)
1 teaspoon fresh cilantro, chopped
1 clove garlic, peeled and smashed
¼ cup green onions, sliced
¼ cup all-purpose flour
1 egg
½ cup carrots, peeled and cut into thin matchsticks
1 teaspoon salt or to taste
½ teaspoon cayenne pepper or to taste
Dash of white pepper
Vegetable oil for frying
Method:
Set aside ½ cup of corn kernels. Place the remaining corn kernels in a large unbreakable bowl and add the garlic, cilantro and green onions. Use a pestle to mash everything together into a coarse paste. You can also use a food processor for this step but you will have more control over the texture if you use a pestle. After mashing it, stir in ¼ cup of flour, one egg, the rest of the corn kernels, carrots, salt, pepper and cayenne pepper. Mix well.
Heat up 2 tablespoons of oil in a large pan over medium high heat. Using a dinner spoon, scoop out the mixture and place onto the pan, carefully flattening it into a small pancake. Cook for about 2 minutes and flip. Cook until both sides are golden brown.
---
---