Baked Curry Puffs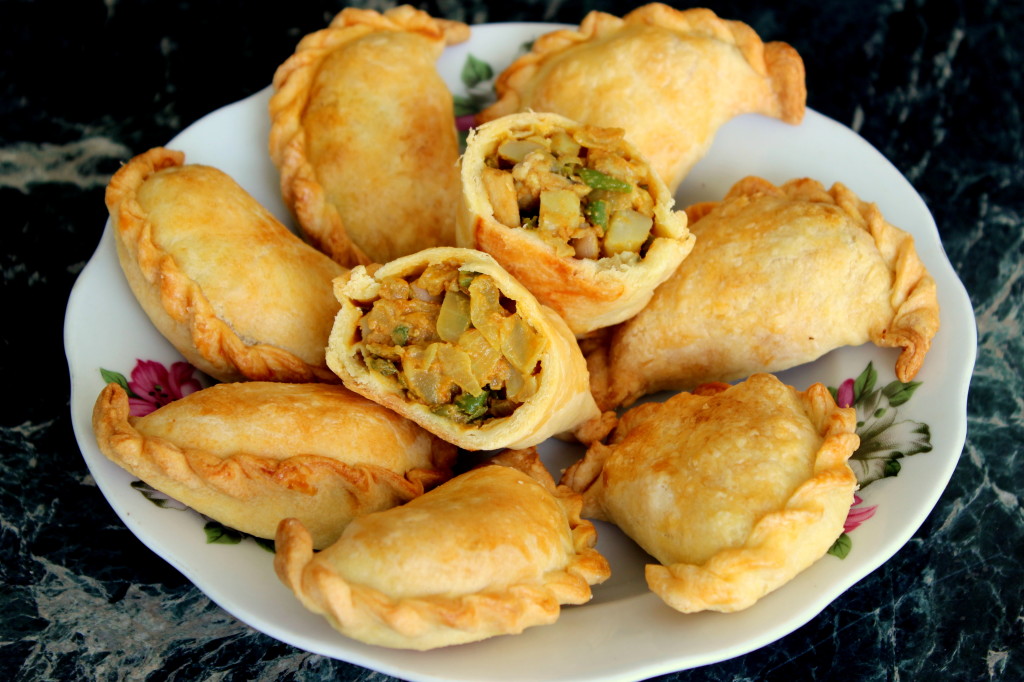 When I made Argentinian empanadas, I was thinking how perfect the pastry would be for curry puffs, a street snack that's popular in Singapore, Malaysia and Thailand. They are typically deep fried but I find the baked version to be just as tasty.
There is no definite historical data to the origins of the dish which is likely a fusion of various cuisines when colonialists and immigrants started arriving in the Malay Peninsula. Locals might have been inspired by the British Cornish pasty or the Portuguese empanadas brought over by the respective colonialists. They also might have been inspired by the Indian samosas. Whatever the origins of curry puffs, I'm very happy that all these cuisines meld beautifully to create the perfect street snack.
Baked Curry Puffs Recipe
Makes 25 small curry puffs
Ingredients for filling
3 medium potatoes, peeled and cut into half (makes 1.5 cups diced)
4 teaspoons curry powder
1 Tablespoon water
2 Tablespoons vegetable oil
1 large onion, diced (1.5 cups)
2 lbs chicken thighs cut into small pieces OR 2 cups ground chicken
1 cup French beans, sliced thinly at an angle
2 Tablespoons coconut milk
¾ teaspoon salt or to taste
1 teaspoon cayenne pepper or to taste (optional)
Ingredients for the dough
3 cups all-purpose flour
¼ teaspoon salt
1 ½ sticks unsalted butter, chilled and cut into small pieces
1 egg
4-5 Tablespoons water
Other Ingredients
Method
For the Filling
Par-boil the potatoes for about 10 minutes until relatively soft. Remove and dice.
Make a paste with the curry powder with 1 tablespoon of water. Heat up oil on a pan over medium heat and fry the onions until soft. Add the curry paste to the onions and fry for a few minutes until the paste is fragrant.
Add the chicken thigh pieces to the pan and when they are almost cooked, add the potatoes and the French beans.
Fry for a few minutes then add coconut milk and salt to incorporate all the flavors together. Taste and add cayenne pepper if it's not spicy enough.
Set aside to cool down. Can be made the day before and chilled overnight in the fridge.
For the Dough
I followed instructions from Laylita's Recipes and found that they are consistently good. Just make sure you work in a cool room because the butter dough can melt easily.
Bring them together
Prepare two cookie sheets lined with parchment papers. When the dough is all rolled out, use a 4 inch round lid or cookie cutter to cut out circles. Place a tablespoon (more or less) of the filling onto the middle of the circle and press the sides together. Seal the sides and then curl the edges.
Preheat your oven at 375°F (190°C).
Place all the prepared curry puffs onto the cookie sheets and brush an egg wash over the top of each of them before baking.
Bake them for 20-25 minutes until golden brown. Enjoy them while they're hot, flaky and crispy.
---
---